Mt Barker Burble 7th October 2018
Alan  Wallis              1950   Tilbrook                 197cc            M/C
Rob Smyth                1970   Motobecane         50cc            Moped
Peter Arriola             1957    James                     150cc          M/C
Roger O'Loughlin    1988    Suzuki                   650cc          M/C
Don Jennings            1982    BMW                   1000cc         M/C
Warren Duncan       2002   Honda                   250cc         M/C
Rob Snell                  2012   Harley                   1690cc         M/C
Joe  Betschart           1972   Kriedler                    49cc         M/C
Tony Earnshaw        1972   Honda                     250cc        M/C
Alan Wallis turned up at Apex Park for duty in his usual role as "Tail-end Charlie" having carefully manoeuvred two extended stays in hospital so as to just fit in between successive Moped Plus events. A few drops of rain fell prior to departure, so Rob Smyth donned his wet weather gear and that did the job nicely – and we had fine weather for rest of the day! There was a good variety of machines with engine capacities from 49cc to a 1690cc Harley. Joe Betschart's absolutely immaculate Kriedler created a lot of comment.
The morning run to Meadows and back went without incident and, as usual there was plenty of motorcycle activity to entertain us at the Meadows bakery during our coffee stop. In accordance with traditional practices, most Burblers enjoyed lunch at Millies' Bakery in Gawler St. Mount Barker. Joe Betschart opted out of the afternoon proceedings and the Kriedler left for Adelaide during the break.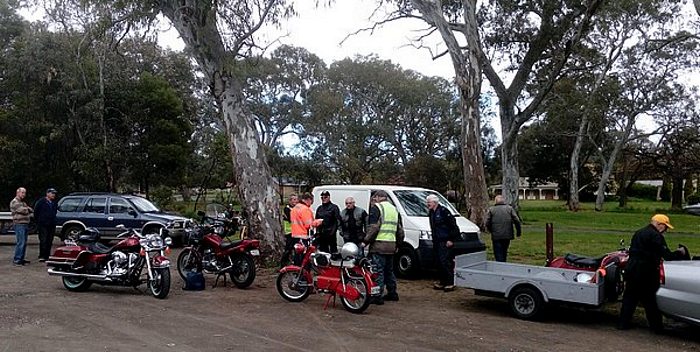 The trip out to Woodside went without incident also and we enjoyed a long social break at Melbas Chocolate Factory.  Several riders left at this stage, some of  them were keen to view the TV coverage of the final laps of the V8 Supercars at Bathurst. The remaining five machines returned to Mt.Barker Apex Park from Woodside via Nairne, Bald Hills Road, and Mount Barker East.
The Marshalls: Roger O'Loughlin and Don Jennings made the leader's job easy for the day. Wayne Williams followed us around with the rescue vehicle, and Alan Wallis maintained station at the rear of the troop as "Tail end Charlie".  On behalf of all the riders we offer our thanks to all these helpers.
NEXT RUN: Adelaide Beach Run -2nd December 2018.
MEET: For a 9.30am Start. Birkenhead Tavern, Pt. Adelaide. Over the Birkenhead Bridge,  right turn at lights – Tavern on right.
RUN: Port Adelaide/ Outer Harbour/Largs /Semaphore/Grange/ Henley Beach/ Glenelg and return. Riders may elect to lunch together at the tavern after the run. Please let Alan or Warren know beforehand so that numbers can be confirmed.
Enquiries: Warren 8388 1770    Alan 8295 5097