1.      You must  be a full member of the Classic Owners Motor Cycle Club. Membership subscriptions are due on the 1st July of each year. It is mandatory for those club members whose motorcycles are on Historic Registration Plates to be financial by the 1st July of each year. If your membership runs out, so does your registration.
By law we have to notify the Vehicle Registration department within 14 days after the 30th June each year of all non-financial members and this automatically cancels your registration. This is a government requirement and contravention could lead to large fines or banishment from the scheme for life.
2.       Was your bike manufactured at least 30 years ago? Some modifications will be accepted, others may not. This excludes tyres and battery and those things usually covered by wear and tear, but could include modern exhaust systems, chopped frames or anything not to the manufacturers original design. It must be roadworthy with functioning lights, brakes, mirrors and stop light? Although many classic bikes were not originally fitted with mirrors and a stop light, they are now a mandatory requirement. This may mean modifying the tail light to take a stop tail light globe. Make sure the engine number and frame numbers are readable. The department, in many cases, has a list of expected engine numbers that go with frame numbers.
3.       Contact one of the Machine Registrar club officials, he will fill out and give you a MR 334 form which you need to register your bike.
4.       Take the MR 334 and a correctly filled out MR1 form (available here) to the Vehicle Registration Department along with your Club Membership card and pay your fee. You now have a set of registration papers for your bike.
5.       You now need a log book. Everything that bike does has to be recorded in the log book and you need to have it on you and completed when riding the bike. They are only issued by the club, and belong to the club, officially. You take your registration papers to a General Club Meeting and present them to the Club Registrar, be patient as he is always busy, and he will stamp your papers and issue you with a log book. Congratulations you now have a legally historically registered bike.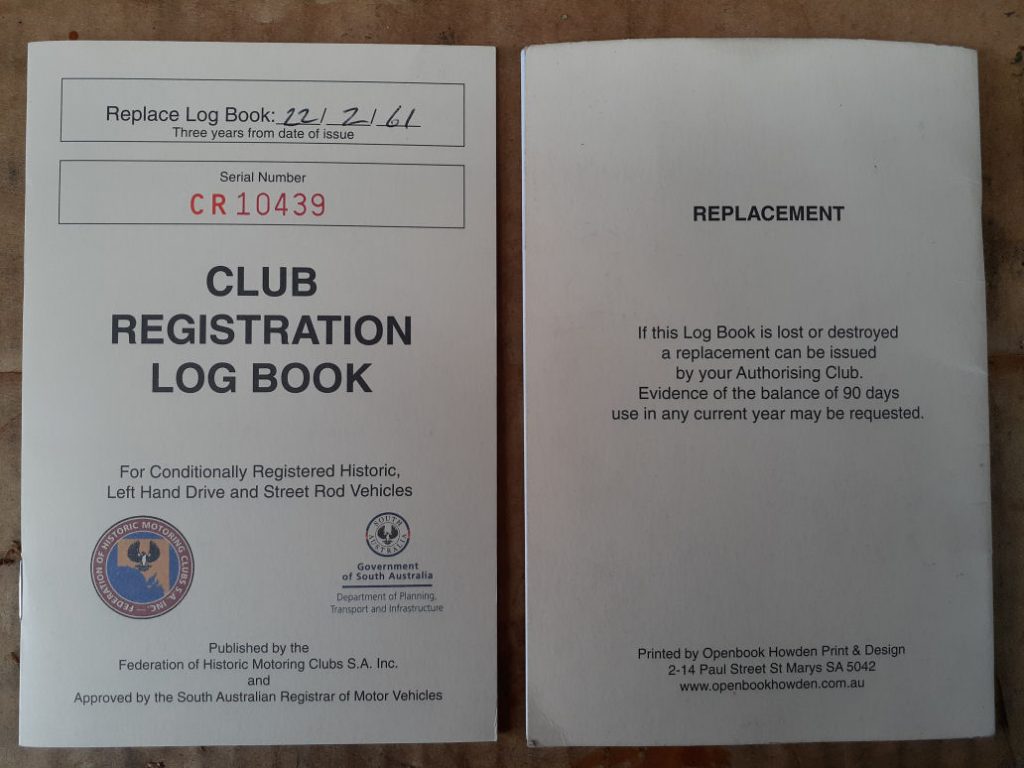 This is an example of a log book. Inside are recorded details of the owner and the bike, plus a log of all trips taken. Always log each trip and carry the book with you when out on your bike. On the back cover are instructions about a replacement book should you lose it. You should keep a separate log of all your trips, or you could end up sitting out the rest of the year with no rides. If you follow all the rules you will find our Registrar is very co-operative. If you move house, you need to present the log book to the club registrar before your next ride. You also have to notify the change on your drivers licence to the correct department. Failure to do both could make your entry incorrect in your log book and incur a big fine.