This page is intended to hold links to web pages of a commercial nature which might help you with running repairs, restoration and supplies including local engineering services, a project bike or parts. Members are encouraged to recommend businesses or forward URLs of any sites which they might like to share to :-
---
Cleaning/Blasting
Club member, Brenton Roy, has set up a new business specialising in aquablasting. Clean up your engine casings and make them look new again.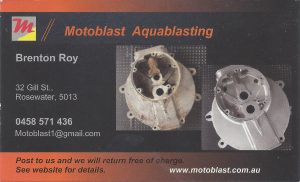 ---
Welding
 Did a great job TIG welding my BSA twin leading shoe brake plate, which works a treat.
---
Paint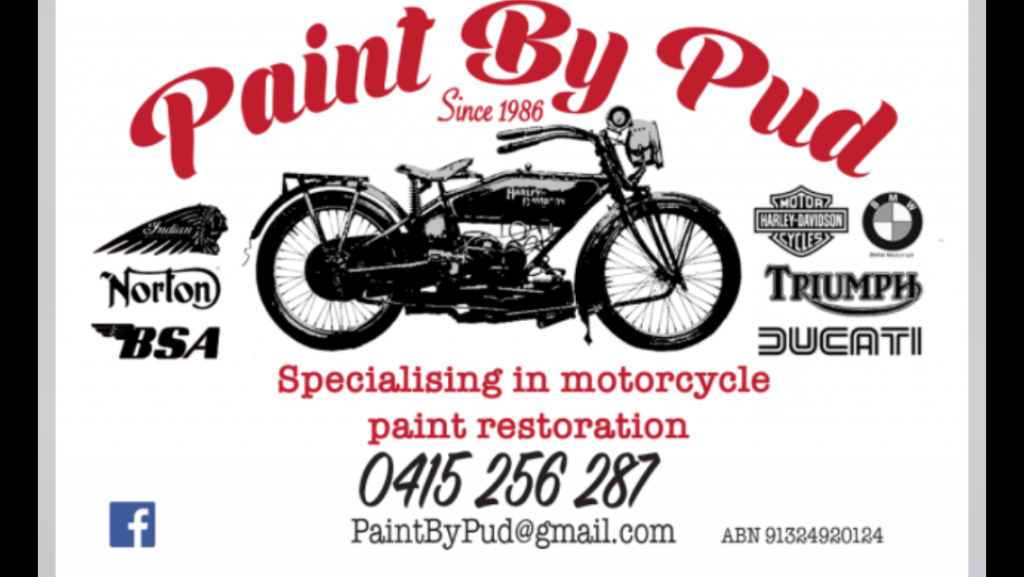 ---
Bike Transport Services
Tim Oliver, formerly of Fergussons Motorcycle Transport, has struck out on his own under the business name Oliver Motorcycle Transport (great name!) . Some of you may be familiar with Tim from the race track or you may have used his services before whilst he was at Fergussons. This bloke comes highly recommended as he has delivered a motorcycle for me and several other members in the past.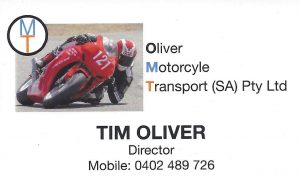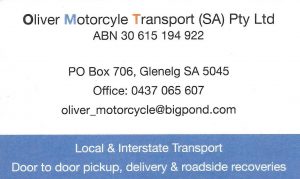 ---
Repairs and servicing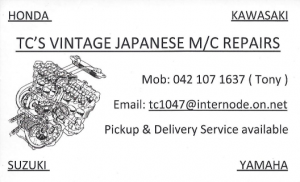 ---
General engineering & tooling
Kim, the owner served his apprenticeship on Suzuki GT750 water bottles. He rebuilt my crank, re-bored the block and supplied oversize piston kits. He had about 4 other GT750 engines in the workshop at the same time. Local workshop situated in Thebarton, behind the Coke factory.
Also offers Dyno Tuning service.
A*Z Engineering
Local COMCC member Ray Chappell is a toolmaker/mechanical engineer  and makes prototypes and specialised components also repairs and copies of existing parts. Ray has made many bike parts  eg. conversion of cable clutch to hydraulic system, custom aluminium billet parts, brackets, turned splined shafts, velocity stacks etc. Anything possible really and probably the cheapest rate around. See Ray's Facebook site showing some of his work and contact details.
  www.facebook.com/azengineeringsa
---
Petrol Tank Repair Kits Ethanol Tested
---
Transfers and Stickers for Classic Bikes
---
Wheels, Brakes & Tyres

For tyres and spoked wheel rebuilds.
Lots more tyres, spoked wheel rebuilds & more.
Re-bonding brake shoes and they skim brake drums too.
---
Electrical
Local business in Blackwood, SA.
 Generator to Alternator – These Alternators replace the original 3 inch generators giving a 12 volt system and plenty of power for modern lights. email : alton-france@orange.fr
This web site has everything to change your old 6 volt alternator to 12 volt
modern replacement regulators, better lights and even shockers.
---
Spares
 Mail order spares for British classic bikes, very reliable and a quick delivery ( 6-10 days). from New Zealand.
Located in Wingello, NSW and supplier of British motorcycle spare parts.
Also for all things British and conveniently situated in Richmond, SA.
---
Fasteners
All types of fasteners in stainless, zinc, chrome UNC, BSCY, BSF etc etc. Every type of fastener you need for your restoration project. A family run business in Welland, SA.
---
Clothing & Accessories
This mob come recommended by our President who has had some good dealings with them in the past.