Participants:
Graham Riley 1972 Vespa 150cc Scooter
David Saint 1966 Puch 250cc M/C
Alan Wallis 1950 Tilbrook 197cc M/C
Warren Duncan 2002 Honda 250cc M/C
Mick Hayes 2016 Suzuki 650cc M/C
Ian Roddie 1964 NSU Quickly 47cc Autobyk
Rob Smyth 1970 Motobecane 50cc Moped
Peter Arriola 1957 James 147cc M/C
Tony Earnshaw 1972 Yamaha 125cc M/C
G Christie 2003 Suzuki 600cc M/C
Rob Snell 2012 Harley Davidson 1690cc M/C
Otto Muller 1969 Kriedler 50cc M/C
Victor Poulton 2015 Moto Guzzi 850cc M/C
Peter O'Neil 20010 Moto Guzzi 950cc M/C
Ray Hill 1974 BMW 900cc M/C
Roger O'Loughlin 1986 Suzuki 650cc M/C
Setting out for the Williamstown Wander this year required different preparations. With the temperature at -3 degrees, out came the REMLAP mits with the woollen glove liners, and the leather gloves went into the bag for later in the day. These temperatures required a full set of thermals under the riding gear, and waterproof over pants to keep the icy breezes at bay.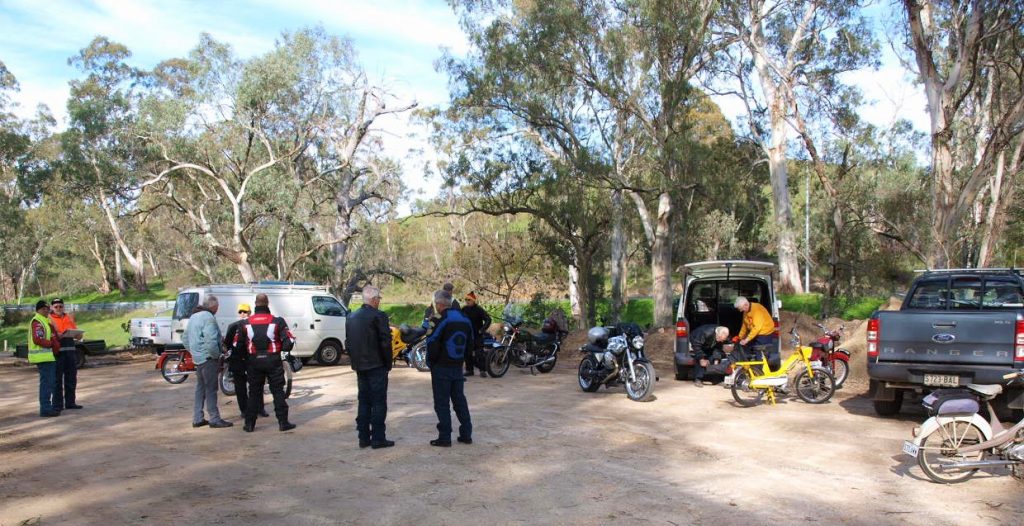 At the start location, conditions were a little better, and 16 riders assembled ready for the journey. There were a few larger bikes not seen before on the "Wander" and one additional interesting moped with the introduction of Ian Roddie's NSU Quickly autobyk out for its first run. Also welcomed at the start, was the presence of retired riders Robert(Pud) Freeman and Alan Martin who attended by car to observe the bikes.
The ride up to Springton and on through Eden Valley to Angaston was achieved without any problems, and riders retired for the usual bakery lunch stop on arrival. After lunch the return journey through the busy Barossa towns of Nuriootpa and Tanunda gave good riding conditions all the way back to Williamstown. There were no breakdowns for the day. The Quickly did not go very" Quickly", but was reliable throughout the day. The only other incident that occurred on the the return journey involved Rob Smyth's Motobecane moped which appeared to be down on power. On dismounting at Williamstown Rob discovered he had managed to "machine" a significant portion off the side and sole of his riding boot as it engaged with the Motobecane's flywheel!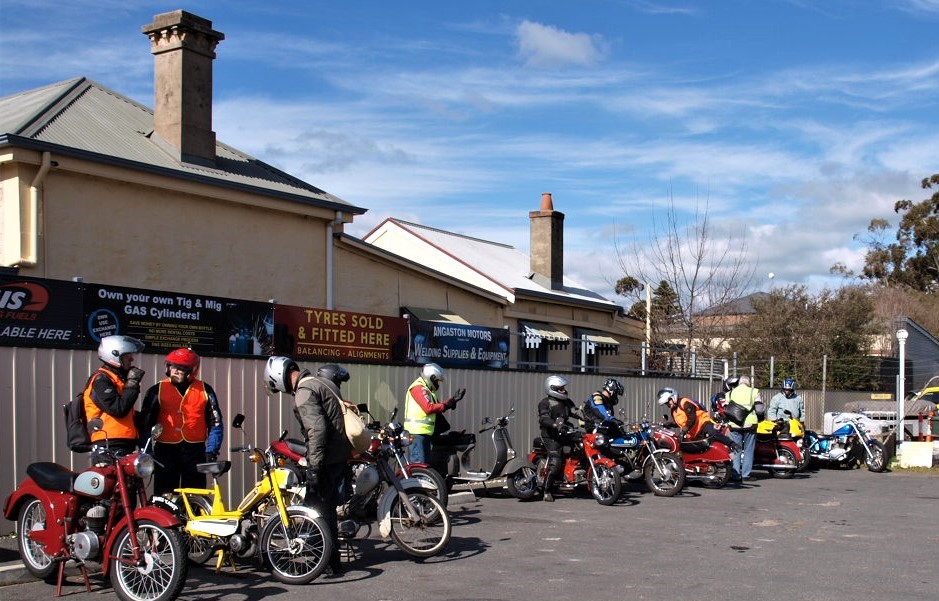 After a good days riding our thanks go to the Marshalls for the day, Roger O' Loughlin, Mick Hayes, and Tony Earnshaw, and to Wayne Williams for attending and supplying the back-up vehicle. Thanks also to Alan Wallis for performing his usual duties as Tail End Charlie.
NEXT RUN: Mount Barker Burble
Sunday 13th October 2019 MEET: 9.30 for 10am start @Lions Club Car park – Mt.Barker, RHS Mt. Barker to Flaxley Rd.
Morning – Mt. Barker/ Echunga/ Meadows Bakery/Macclesfield/Mt.Barker Lunch at Mt. Barker
Afternoon –Mt.Barker/Littlehampton//Balhannah/Oakbank/Woodside/Nairne/ Mt.Barker ( 40kms a.m.) — (40 kms p.m.)
REMEMBER: These runs cater for the slower rider, backup trailer always provided. Enquiries; Warren 8388 1770 Alan 8295 5097