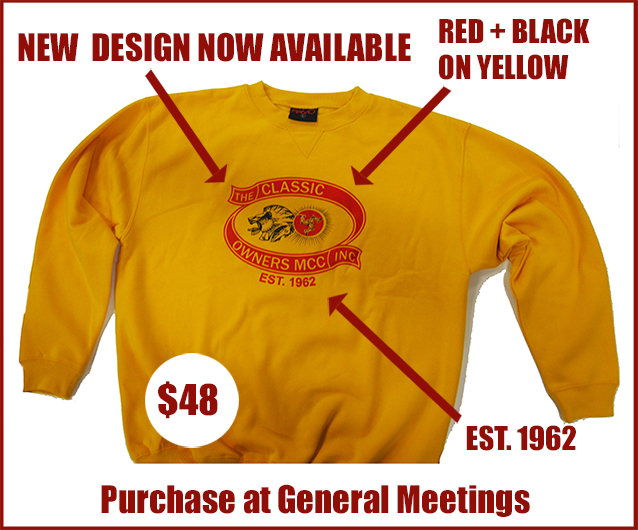 This catalogue should keep you busy for a while. Best viewed in Full Screen. Thanks to Alan Kernich for the link.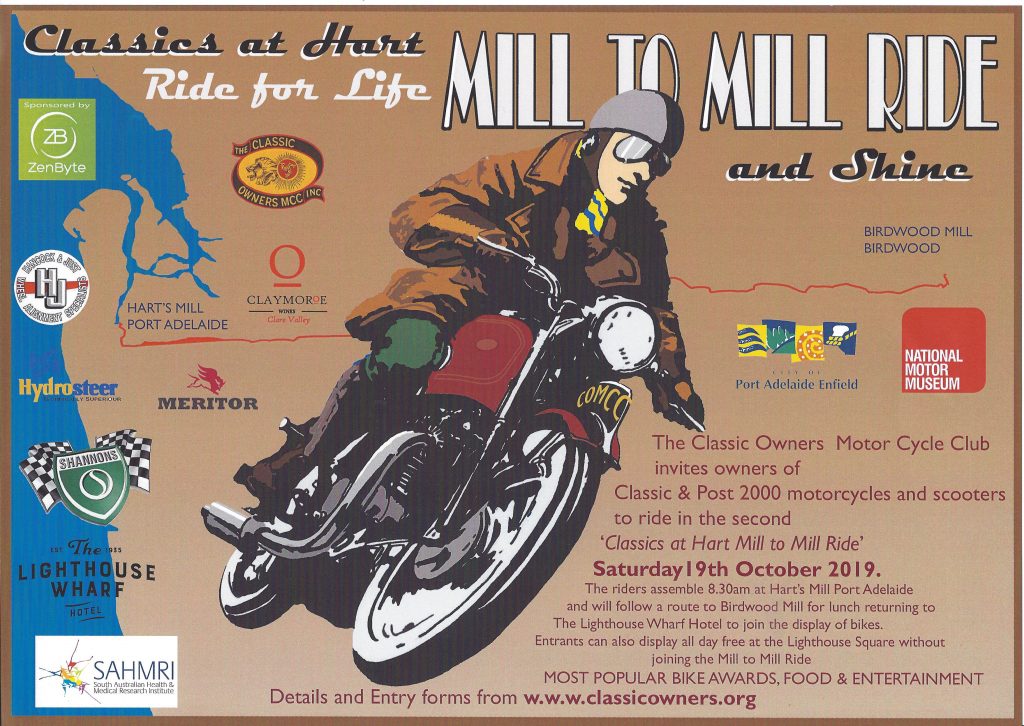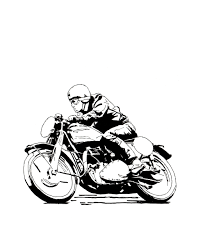 You won't want to miss this one. A visit to Nuriootpa to the transport museum and a morning tea ($5 inc.). Bob Finnie has informed me that they have over a 100 motorbikes and over 60 cars on display. In his words – he was gobsmacked when he dropped in to have a bit of a look.
Then it's off to the Greenock Aviation Museum for a visit and lunch ($10 inc.). There will be a scheduled startup of one of the Rolls Royce aircraft engines for our member's benefit.
Meet 9am for a 9:30am start at the Caltex servo, Port Wakefield Rd, Bolivar. Ring Bob Finnie 8248 2220 or 0411 687 666 for details.
There was a ride to Tailem Bend on Sept 17th, stopping at Nairne for morning tea. Many historic bikes were in attendance and we all got to have a ride on the Jervois ferry, which is always popular with our members.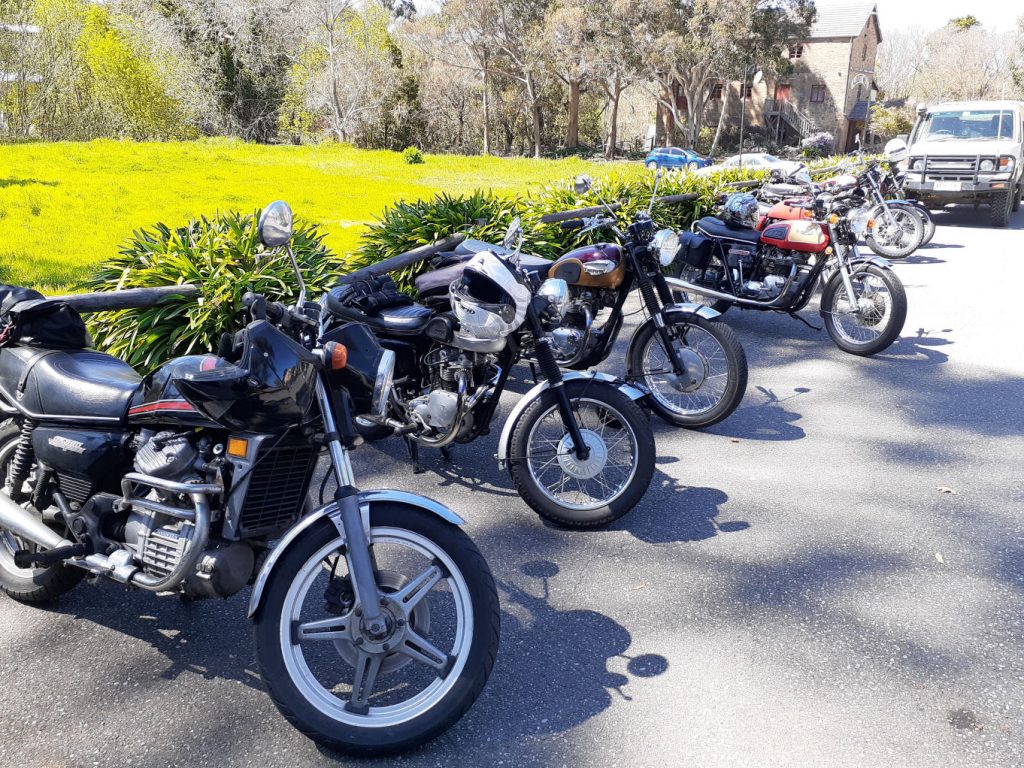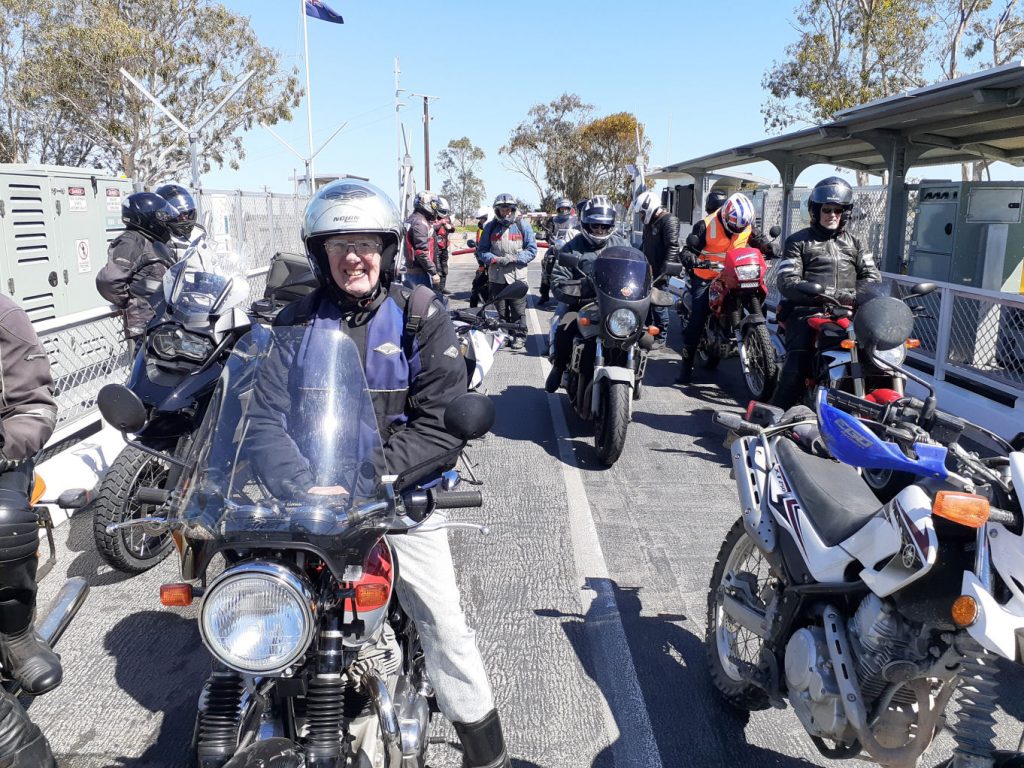 There were over 20 bikes at the start of the 2nd October ride, historically speaking there was Ray Hill and his BMW R90, Owen Greenfield Norton Commando, Trevor Jones Moto-Guzzi 850 T5, Rob Smyth Triumph Tiger 100, David Byford Yamaha RD350, George Elovaris BMW, David Saint Suzuki GT750, Allan Vaisham CB500T and yours truly on a Triumph T120R. That's all I can remember – apologies to any I have forgotten. We stopped at Meadows and then Milang for lunch. Fantastic weather.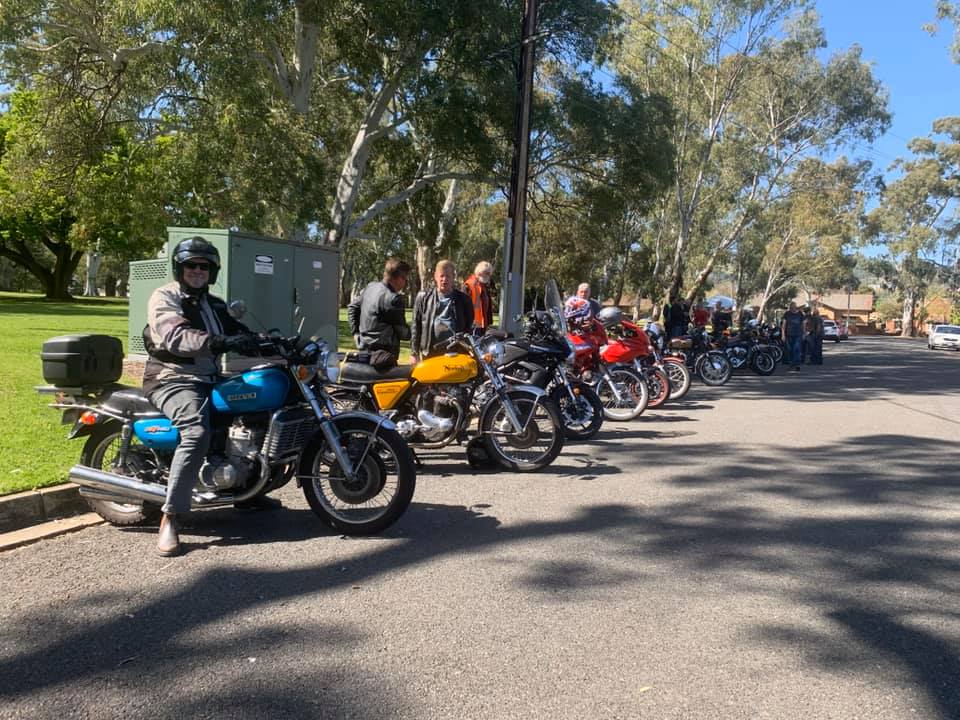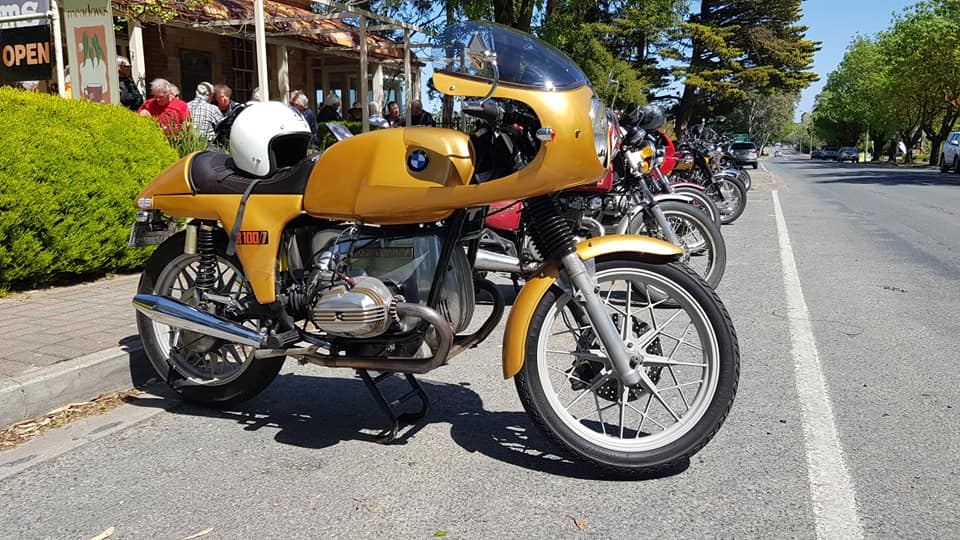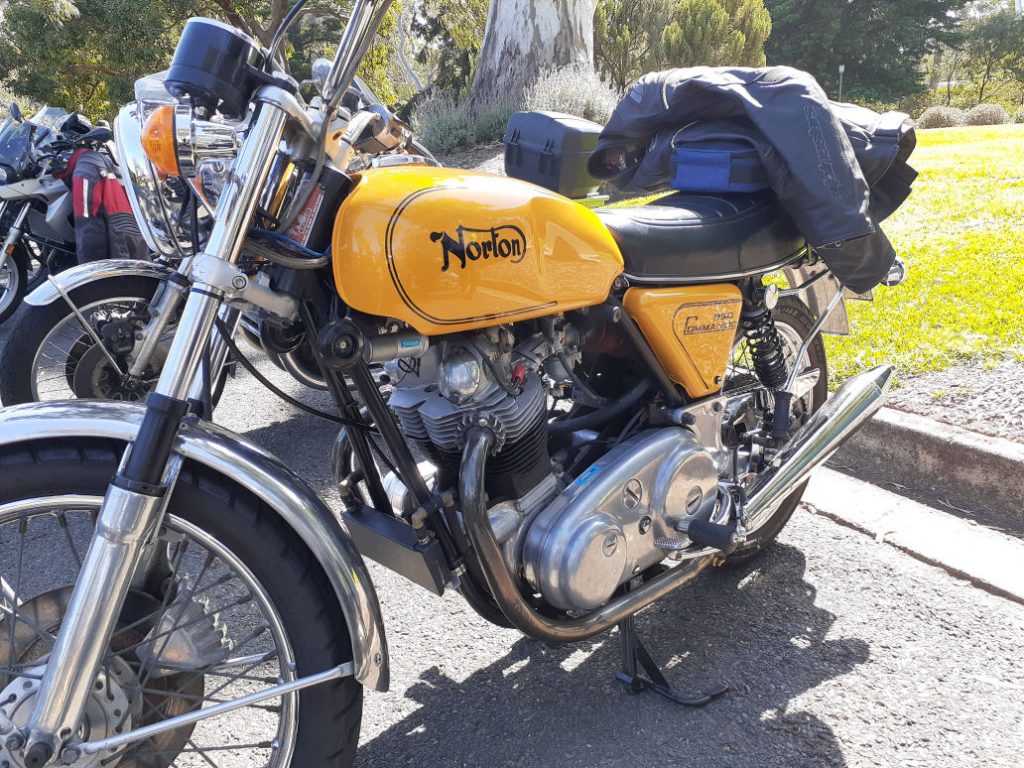 Many thanks to our ride leader Richard Knott for his efforts and leading us down many interesting roads in the Adelaide Hills.
The weather was perfect and competition from the Distinguished Gentlemen and the Bay to Birdwood was obviously a non event. We had the best turnout for a Sunday run since my records began in July 2017 with 19 bikes on the starting grid. Well done our club members! In the order that they were recorded in my diary:-
Alan Kernich 1985 BMW R80 800cc
Graham Riley and pillion Sharon Cooper 2016 Indian Scout 1200cc
Allan Vaisham 1972 Honda 450cc
Kevin Fear 2013 2013 Ducati Multi 1200cc
Bernie Burton 1981 Kawasaki Z650 650cc
Ray Chappel 1992 Kawasaki ZR1100 1100cc
Louis Peilschmidt 2002 Aprilia Pegaso 650cc
Tony Mitchell 1997 Honda NX650 650cc
Tony Earnshaw 1974 BMW R60 600cc
David Saint 1974 BMW R90S 900cc
Ray Hill 1974 BMW R90/6 900cc
Wayne Williams 2011 Kawasaki Versys 650cc
Ed Lowrey 1975 BMW R90S 900cc
Carole Fear 2017 Ducati Monster 821cc
Paul Harding 1978 Triumph Bonneville 750cc
Neil Wickham 2014 Triumph Thruxton 900cc
Bill Werner and pillion Karla Matovock 2009 Triumph Sprint 1050cc
Charles Oliver 1967 Triumph Bonneville T120R 650cc
Campbell Blaney 2001 Harley Davidson FXST 1450cc
A good mix of 9 club registered and 10 modern bikes and a total capacity of 16.271 litres!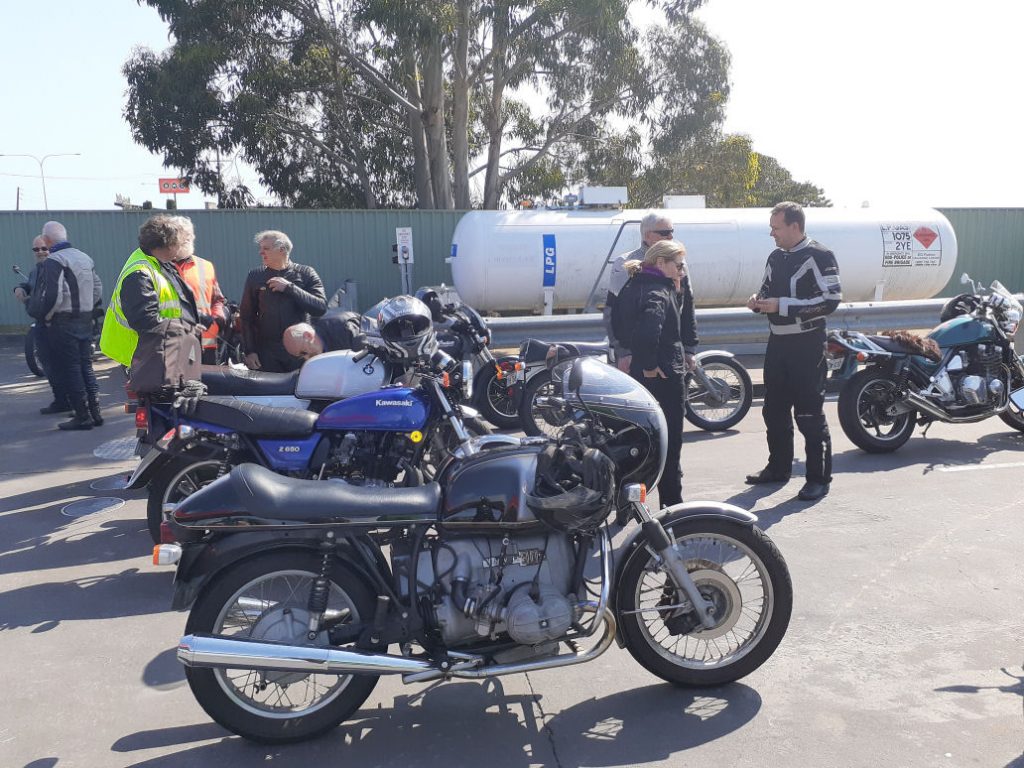 We all met at the Caltex servo at O'Halloran Hill ready for a 10am start but there were a couple of minor delays while your captain topped up the oil in his much neglected Beemer and while Ed discovered he was missing one of his nuts. This was on one of the rear shock absorber mounting bolts. Luckily this was noticed by a very observant club member before Ed suffered a nasty let down. Ed went off to Bunnings to find a replacement while the rest of us set off via Coxs Hill road and Piggot Range Road through Clarendon and then Bakers Gully Road and McLaren Flat Road to our morning refreshment stop at the Home Grain Bakery at McLaren Flat. Ed managed to rejoin the group here. Well done Ed.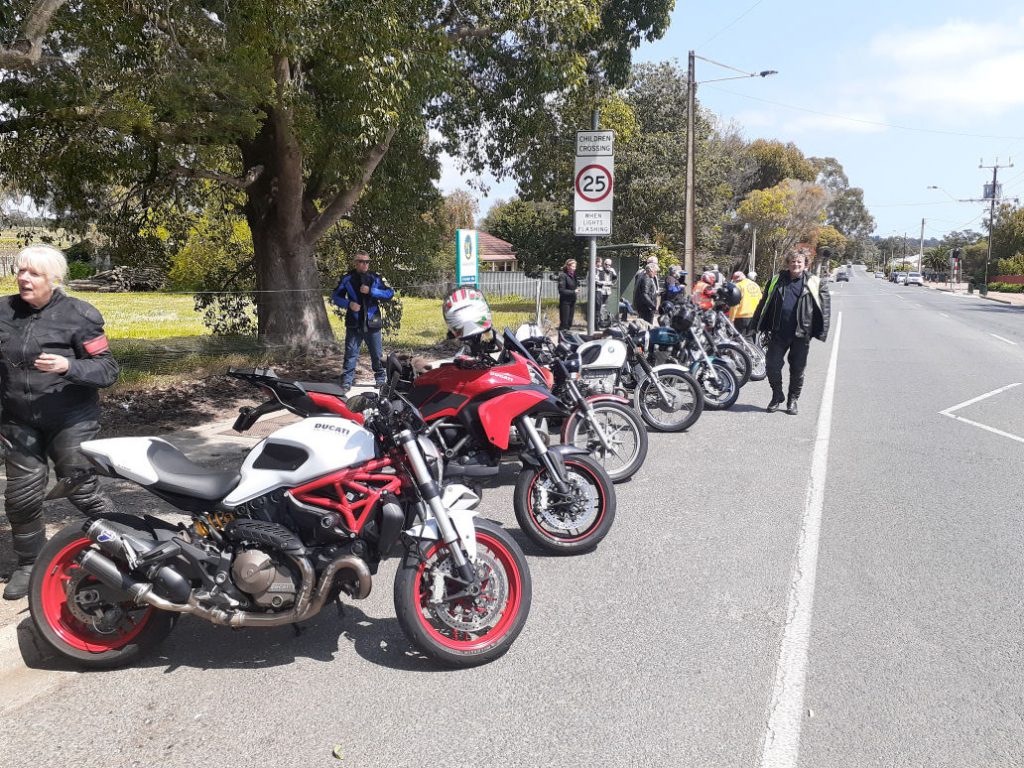 After a relaxing coffee and conversational break it was back on the bikes and up the exciting Wickhams Hill Road, along Range Road to the top of Willunga Hill and then down to Pages Flat Road and on towards Myponga. Reservoir Road must be one of the most scenic routes we have along a ridge with spectacular sea views to the west and the reservoir to the east. Down the hill and across the arched concrete dam wall itself before descending further down to Carrickalinga and Normanville. From here it should have been a pleasant cruise further south to Second Valley. However is was at this point that Bernie's Kwaka decided to spark up with with an electrical short and blown fuses. Club members helped to locate the problem by discovering hot spots in the wiring loom and soon the machine was mobile again and we all arrived safely at the Second Valley cafe and store. Two riders took this opportunity to head elsewhere for pressing engagements. A few people had gone without food long enough but many opted to wait. After a smooth and rapid trip via Delamere and Torrens Vale we stopped at one of our favourite venues, the Yankalilla Bakery.
Then as a matter of record, a largish group of at least half a dozen set off for Meadows where we regrouped prior to heading off in various directions depending on southern or northern suburban destinations. My opinion – a top day. Good weather, good companionship and a total of 280km, for me at least, very well spent. Thanks to all participants.
Alan Kernich Club Captain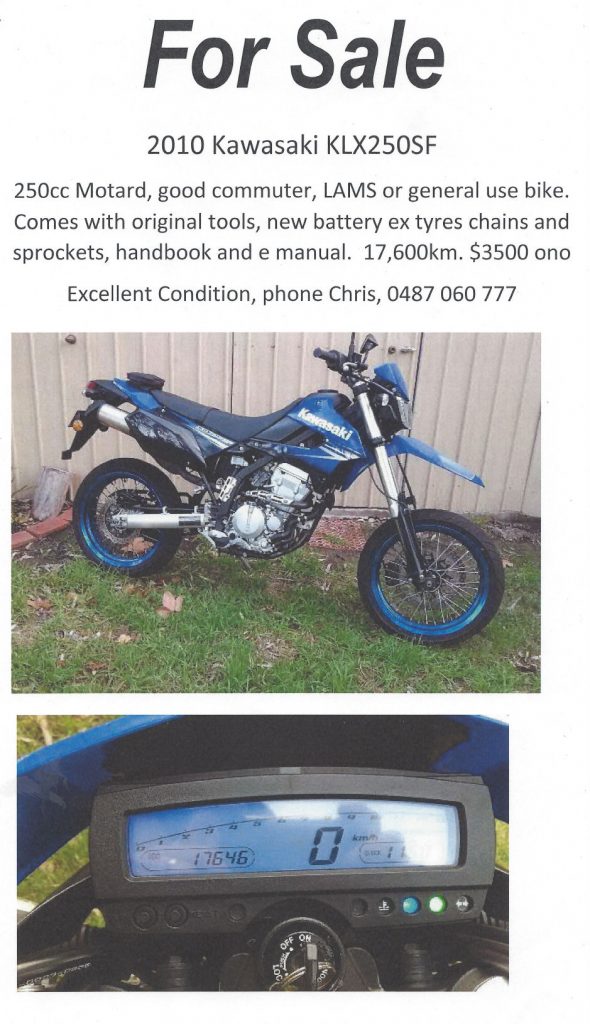 Participants (In approximate order of appearance – see later) At Civic Park…Alan Morris – 2016 Triumph Speedmaster 865ccAlan Kernich – 1985 BMW R80 800ccCharles Oliver – 2015 Triumph Street Triple 675ccKym Miller – 2013 Triumph T100 865ccDavid Saint – 1974 … Read More »