Only 3 club registered bikes together with 9 others and a bus load of about 15 non bikers met at the Caltex Bolivar sevo at 8:15 am for the run to Port Pirie. This visit was organised by Bob Finnie and he was also the bus driver. Great effort Bob and it's a huge pity that there weren't more starters. At least one traveller preferred canine company on the bus than motorcycling. Sorry Wayne – probably not your preferred option.
The riders (and bikes from young to old) were:-
Graham Riley 2016 Indian Scout
Louis Peilschmidt 2016 Honda Africa Twin
Charles Oliver 2015 Triumph Street Triple
Kym Miller 2013 T100 Triumph Bonneville
Bob Cole 2013 Yamaha Star
Robert Smyth 2004 Kawasaki W650
Dick Olds 2002 Harley Davidson
Bernie Burton 1995 Suzuki Bandit 600
Ray Chappell 1992 Kawasaki ZR
Roger O'Loughlin 1988 Suzuki GR650
Rob Brumfield 1987 Honda CBR 1000F
Alan Kernich 1985 BMW R80
We started on time and apart from a few very light drops (not enough to get wet) the weather was mild and mostly cloudy during the morning. After a coffee stop at Port Wakefield it was on to Pirie via Bute and Port Broughton. Well – for most of us at least. The bus went via the main road through Snowtown as planned but a bit of a mix up near the Copper Coast Highway turn off meant we lost our tail end Charlie. A few more dropped off the end at Port Broughton, presumably for an ill planned fuel stop. However we eventually all arrived within a few minutes at the RSL Club.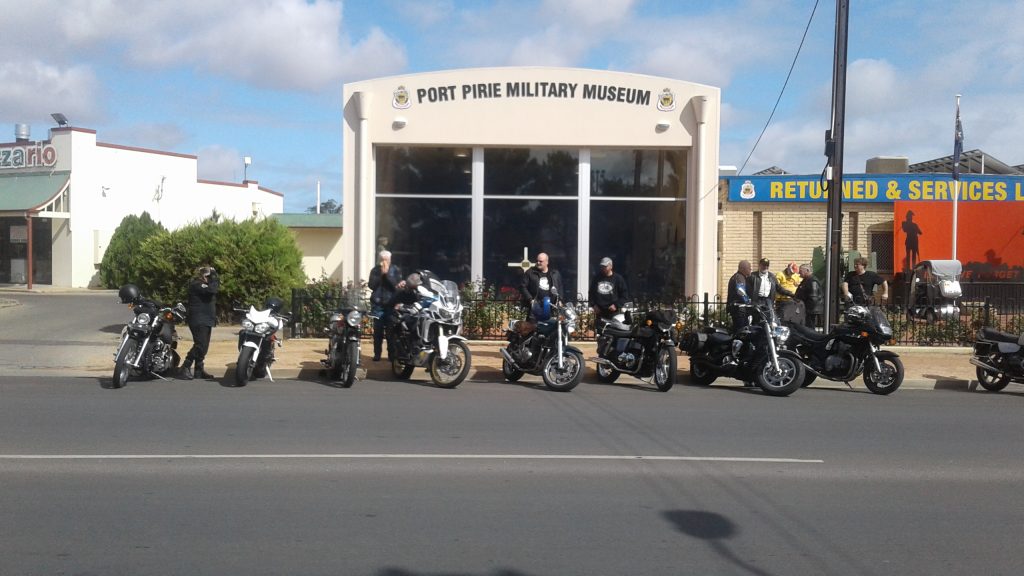 Plenty of time on this occasion for a more leisurely look around the excellent RSL museum before sitting down to a lunch of once again outstanding quality.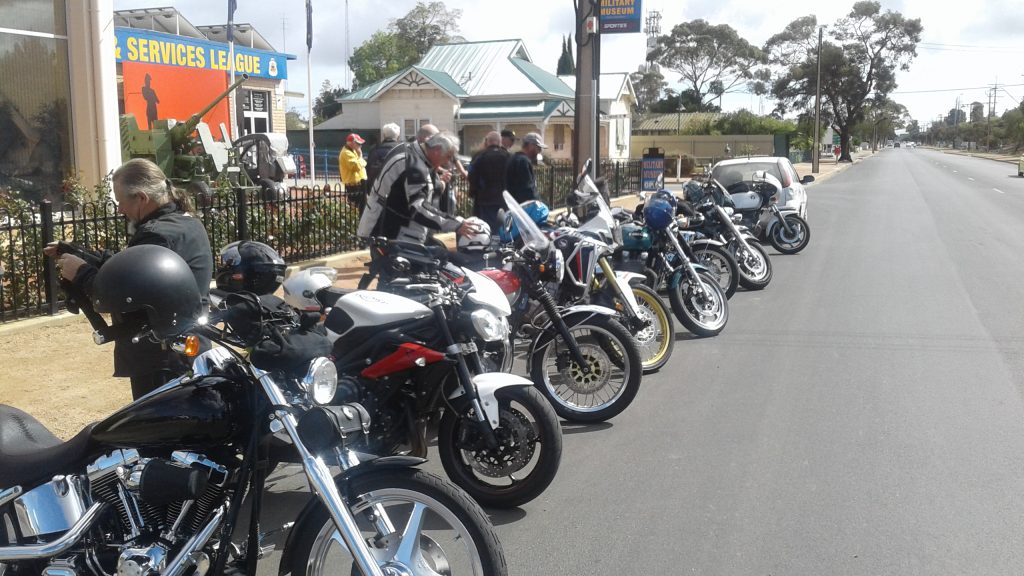 About half the group elected to return to Adelaide via the main road but the rest preferred the slightly longer but much more interesting route back to town via Crystal Brook, Clare and Gawler. The return trip was very enjoyable in sunny but mild conditions. I clocked up 464 kilometres for the day and some would have done a bit more! No breakdowns either physical or mental. Well done all.
Alan Kernich, Club Captain