13 starters met at Caltex at O'Halloran Hill which started as a lovely winter morning! Blue skies and no wind. There were six historic and seven modern bikes on the starting line. Strangely 2 Harleys, must be a record.
The historic machines were;
Charles Oliver 1959 BSA A10SR
Ray Hill 1974 BMW R90 900cc
Ed Lowrey 1975 BMW R90S 900cc
Alan Kernich 1985 BMW R80 800cc
Allan Vaisham 1971 Honda 450T
John France 1970 Harley Electra Glide
And the moderns in no particular order,
Wayne Williams 2010 Kawasaki Versys 650cc
Graham Riley 2016 Indian Scout 1200cc
Louis Peilschmidt 2000 Moto Guzzi California 1100cc
Tony Mitchell 2020 KTM ADV 390cc
Trevor McDonald 2015 Yamaha MT09 850cc
Campbell Blaney 2009 Harley XR1200
David Saint 2012 BMW R1200RT
This is my first official club run as Captain and if getting riders dislodged from the official route, then I was a resounding success!  We set off towards Clarendon where along the way riders thought better of route and turned left up Chambers Hill Road which to my recollection I didn't post a corner marker. Fortunately in the morning briefing I mentioned that we were stopping at Myponga for Brunch. We met up along the way with most the dissidents.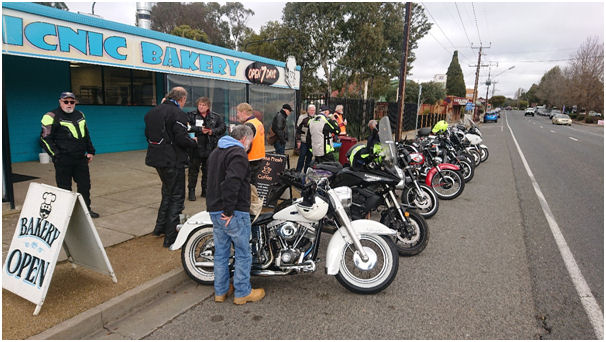 After refreshments, we set of towards Rapid Bay via Yankalilla, Parawa and Delamere. We encountered misty conditions with heavy low lying clouds, just enough to be annoying to dampen ones spirit. We arrived at Rapid Bay for a tourist / toilet stop minus Charles, who took an unscheduled pit stop, but never re-joined the pack.
We departed to Second Valley just up the road for a second refreshment stop. Then we returned via Myponga dam for a quick tourist stop. The temperature had dropped since the morning, so rather than the scenic route home, it was the quickest way! That was my executive decision.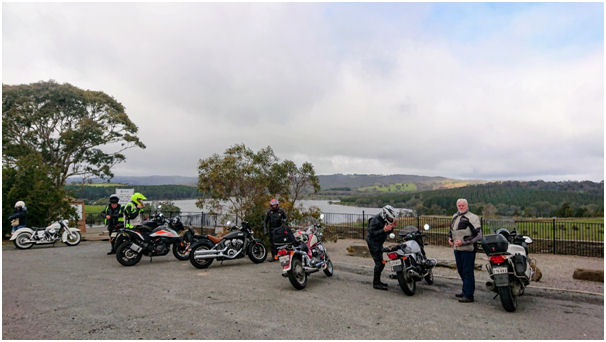 I'm looking for all members' help, to make these club rides memorable and interesting. So if you know of an interesting destination or an event that could be of the focus for a ride please email me louispeilschmidt@gmail.com I don't want to be governed to the confines of "Café Racer Mentality", where the group is riding from food stop to food stop. I personally feel that this is restrictive. I am of the opinion that bringing your own refreshments will allow stops to be made centred around scenery or POI (point of interest), rather than the next McDonalds. My intention is, typically to stop once for Brunch then aim for a POI(?). I am happy to receive comments positive or other. Stay sunny side up.
Louis Peilschmidt, Club Captain.