Participants:
Wayne Williams on 2000 Kawasawi Versys 650

Bernie Burton on1995 Suziki Bandit

Graham Riley on 2016 Indian Scout

Alan Kernich on 1976 Triumph T160 Trident

John Banks on 1981 Triumph T140E

Charles Oliver on 1967 Triumph T120R

David Saint on 1974 BMW R90S

Matt Randell on 1973 BMW R90/6

Louis Peilschmidt 1992 BMW R100GS

Mark ? Yamaha XFZ 1000
It was an overcast and moist start to this abbreviated ride. Welcome to 2 new club members who attended. Alan's "new" Trident required a push start in the morning to become mobile. Slow and nervous headway was made, due to the slippery roads covered in moss and debris and my dicey front tyre proved to be an impairment in the drizzling conditions of the day.
 It was soon after our short coffee stop in Lobethal when I realised at Gumeracha that nobody was behind me. I waited, then I retraced my path to find my companions had stopped to support a malfunctioning unit, yep the Trident again (not Alan). Repairs were made to the electrics and we set off. Time disappeared due to this interruption so wisely I amended portion of the scenic journey so it wouldn't interfere with lunch time.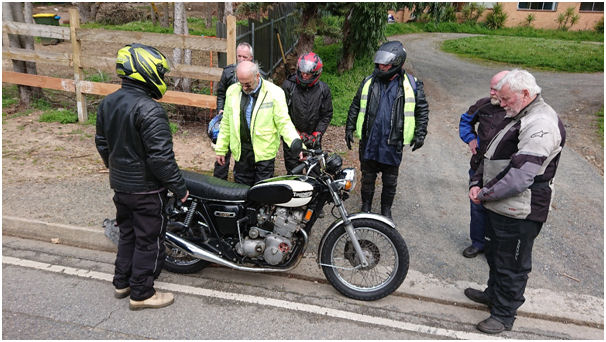 No more than 2 kms of progress, I found I was no longer leading a group. Back tracking again to a small assembly, I called tail end Charlie, yes it was the dreaded Trident again! Signifying Alan could retreat home, as it was relatively nearby for him, I was assured all was well and will be travelling again shortly. The repair pit crew decided to overtake the second patiently waiting group, so now the ride leader was demoted mid pack. The two groups met up in Palmer for a well-earned lunch.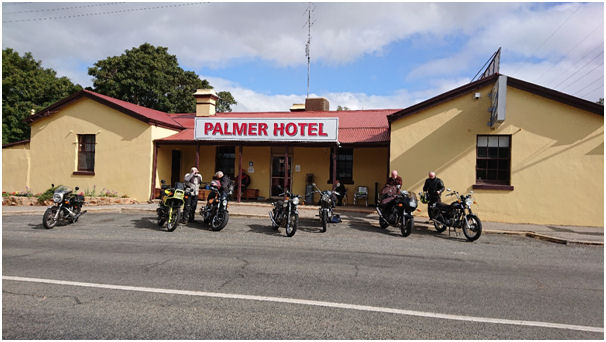 After lunch, some members wanted to proceed the direct route home, including tail end Wayne. I proposed that Alan resume duties as the ride Leader and I become tail end Charlie. I assumed that more breakdowns were looming, so nobody would have to backtrack. I gave him route instructions to Mount Pleasant, which was pointless as another stoppage was encountered at Palmer before we could set off. During repairs the Trident stater was engaged, the bike was in gear and sprang forward almost falling onto Charles' Triumph.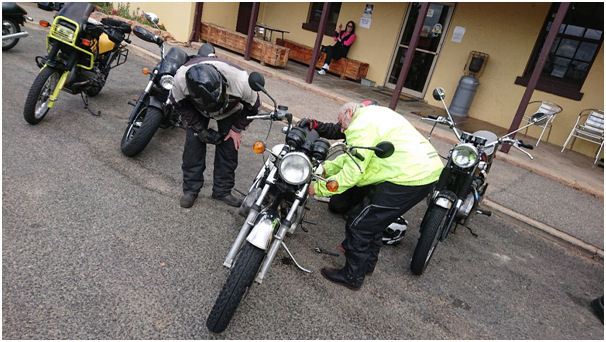 It became vital for a fuel stop at Mount Pleasant for the Trident. I followed the group, but we became disjointed around Mount Pleasant. Rain was now falling, I made an executive deduction to terminate the ride, I was glad to get home out of the cold! I heard later the petrol station was closed at the time in Mount Pleasant, of course it was. I'm convinced that Trident translates to 3 breakdowns! I hope you all enjoyed your ride to Palmer
I'm keen for recommendations for upcoming monthly ride destinations and formats, bearing in mind that rides are 2 to 3 months scheduled in advance and advertised in our club calendar. Ride duration of about 200 kms seems standard, personally I'm happy to do longer rides or shorter when it's scorching. Also I think it's practical in the summer months for southern ride destinations. To utilise normally cooler conditions encountered, but avoided in winter for similar reasons. I know and love riding in the Southern regions, but central and Northern is sketchy. Can someone assist me with Northern ride destinations that's familiar with the region? Perhaps even lead a ride one month and  give me a break?
As the newly appointed club captain I'm still trying to find my "mojo" so bear with me for a while. Aside from leading club rides there's no other apparent "job description". I don't expect to keep every Tom, Dick, and Harry satisfied all the time with destinations and format nominated. But I would like to mix things up a little, so I'm am not just leading another a predictable café outing. What I hope to bring to this position is variety, after all variety is the spice of life! If you want predictability (Groundhog Day) I'm certainly the wrong person for this position, I am content to vacate anytime for a "café junkie" ride leader.
Next weekend ride will be to Angaston on Sunday September 27th, we will be meeting at Civic Park Nth East Rd, Modbury – opposite the Tea Tree Plaza – at 9:30am for a 10am start. All makes and models of bikes are welcome. This is the last of the predetermined ride destinations from the outgoing club captain.   
Louis Peilschmidt, Club Captain
 louispeilschmidt@gmail.com