Participants:
Alan Wallis 1995 Kawasaki 250cc M/C
Warren Duncan 2002 Honda 250cc M/C
Ian Voysey 1947 Malvern Star 98cc Autobyk
Mick Hayes 2005 Suzuki 400cc M/C
Roger O"Loughlin 1988 Suzuki 650cc M/C
Paul David 1953 BSA 350cc M/C
Tony Earnshaw 1972 Yamaha 125cc M/C
Don Jennings 1977 BMW 1000cc M/C
Lyn Jennings 2005 Yamaha 250cc M/C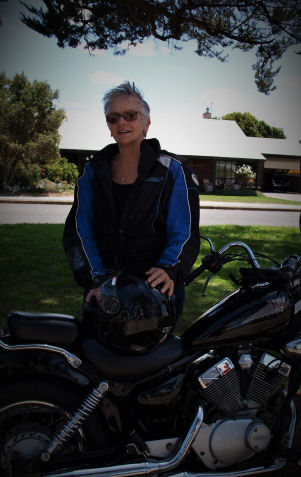 After some confusion about the scheduled start time,9 riders departed the start location under the pine trees at the site of the old Goolwa Camping Park. The journey out across the bridge over the Goolwa channel and via the north coast of Hindmarsh Island and eventually to the Murray River Mouth went without incident. It was of interest to note the changes in holiday homes on this part of the ride. For many years now we have seen the self- built holiday shacks being gradually replaced with million dollar plus homes.
The Murray Mouth was also interesting and is attracting a deal of interest with three Dredges working hard to keep the channel clear. In previous years our ride has not experienced any problem in parking at this location. However on this occasion we were just able to fit the bikes in the small space available.
On the ride back to Goolwa our traditional visit to the Marina area took place before we adjourned for lunch. It was noticed that the housing area for residences in this area has doubled and that there is now two Marina areas. Perhaps we could consider visiting the alternative Marina on a future outing.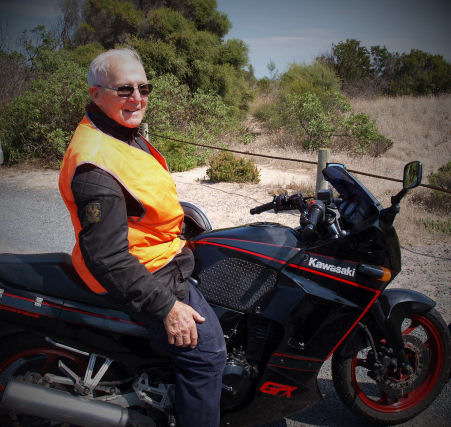 The afternoon ride took the group to the North Goolwa area, then North towards Currency Creek and then onto the Middleton Road for our usual visit to Goolwa Airport. By this time the typical Goolwa afternoon weather had set in and a strong south westerly wind prevailed. At the airport we were surprised to see that a sky diving activity was still taking place regardless of the conditions. We watched as a turbine powered Fletcher aircraft departed for a climb to 15000 ft to enable a tandem parachute jump back to a nominated target on the aerodrome. Our departure was delayed to observe the arrival, and we observed a brilliant display of flying techniques to achieve safe touchdown of two people right on the spot, in difficult conditions. Because of this delay, it was necessary to shorten our planned afternoon route and to return to Goolwa via Middleton.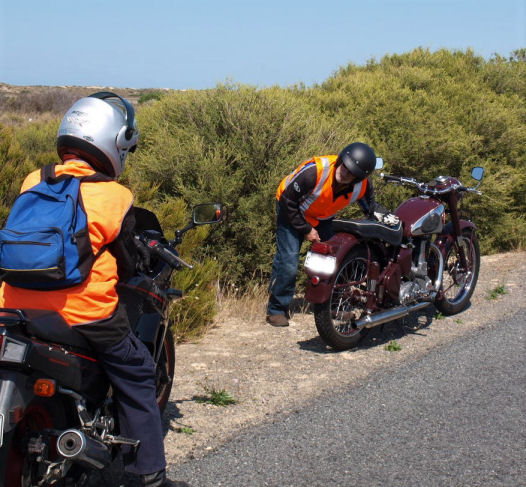 Throughout the day all machines produced reliable performance. There was a few moments of concern when Paul David's neat B31 BSA shed its footchange lever whilst Paul was making good progress along the main Goolwa to Victor Harbour Rd. Paul exhibited considerable skill by returning to the abandoned lever which remained on the white line in the middle of the road until collected.
A pleasant surprise for the day was the reliable performance of Ian Voysey's Malvern Star Autobike which ran well throughout the day.
Alan Wallis surprised us all by arriving on his 250 Kawasaki which he rode all the way from home. Alan normally brings his much admired Tilbrook by trailer to Moped events to officiate as Tail End Charlie. Many thanks Alan and we are sure you enjoyed the convenience of electric start for the whole day. We are assured that the Tilbrook had only a minor electrical fault just before departure.
Our thanks go also to Roger O'Loughlin, Don Jennings, and others who assisted with marshalling throughout the day and to Wayne Williams for providing his back up service with car and trailer.
We offer a warm welcome to any enthusiastic motorcyclist to share our participation in the 27th Annual Moped Marathon on Sunday April 5th in the Barossa Valley. Meet 9:00 for a 9:30 start at the rear car park, Totness Inn, Mt Pleasant.
Report by Warren Duncan, photos by Wayne Williams.