Participants (In approximate order of appearance – see later)
At Civic Park…
Alan Morris – 2016 Triumph Speedmaster 865cc
Alan Kernich – 1985 BMW R80 800cc
Charles Oliver – 2015 Triumph Street Triple 675cc
Kym Miller – 2013 Triumph T100 865cc
David Saint – 1974 BMW R90S 900cc
At Mount Pleasant…
Graham Riley – 2016 Indian Scout 1200cc
At Kapunda…
Wayne Williams – 2010 Kawasaki Versys 650cc
The forecast for Sunday 8 September was not promising with showers and gusty winds predicted. Never the less, five brave souls met at Civic Park, Modbury. At first it looked like a big turnout but another club had coincidentally arranged to meet at the same place and time for a run, at least initially on the same route as ours, to Mount Pleasant for morning coffee! We received plaintive call from one member who had gone to the wrong starting point. An arrangement to meet further up the track was successful with one more rider added to the complement at Mount Pleasant.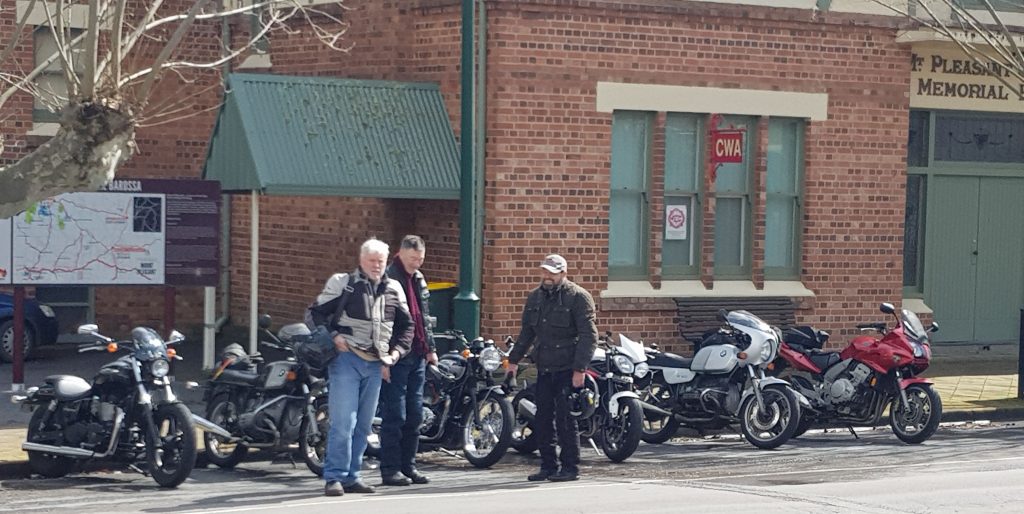 Another member, contacted by phone, seemed reluctant to brave the rainy conditions at his locale. We set out in sunny conditions and evidently, he too had decided to give it a go and after chasing the main group to Mount Pleasant and Angaston, finally caught up with us in time for lunch at Kapunda. Along the way he spent some time exploring some famous past 24 hour trials locations such as Moculta, Truro and Koonunga. Well done Wayne.
Meanwhile the main group, consisting of two club registered BMWs and three modern Triumphs had a challenging ride from Mengler's Hill Lookout through Light Pass to Kapunda via the Truro Road. Why challenging? Well it was the windiest conditions I had ever experienced whilst riding! From Light Pass to the Kapunda turnoff along the Sturt Highway at 100 kph, conditions were strangely calm. In other words we had a tail wind averaging around 100kph!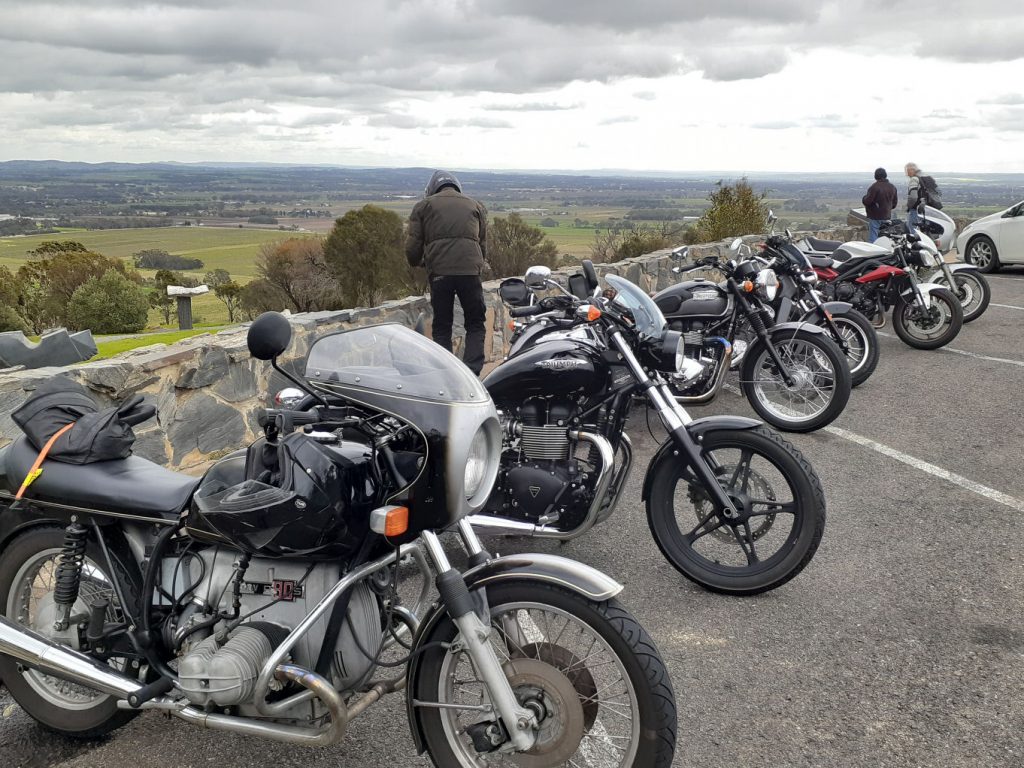 Needless to say, on the almost reciprocal heading after the turnoff, it felt a lot different with a massive head and crosswind. And then it started to rain as well. Thankfully we only had to endure 10 or 15 minutes of this before arriving at our lunch stop at the Kapunda Bakery.
A leisurely break provided sufficient time for the weather to settle and we enjoyed a pleasant ride back home via Greenock, Seppeltsfield, Tanunda, Lyndoch and Williamstown. Some went their own way along the trip home until it was just Charles and yours truly on the final stretch down the Gorge Road.
About 210km all up and in spite of the weather and some geographical gaffes I think most people enjoyed themselves.

Alan Kernich, Club Captain.