What a glorious mid-winter day! Blue skies and no wind. Seventeen club members took advantage of the conditions and met at Hawthorn Crescent for the run. There were six historic and eleven modern bikes on the starting line.
The historics in order of descending (machine) age were:-
Phil Allen 1966 Norton Commando 750cc

Charles Oliver 1967 Triumph T120R 650cc

David Saint 1973 BMW R60/5 600cc

Ray Hill 1974 BMW R90 900cc

Ed Lowrey 1975 BMW R90S 900cc

Alan Kernich 1985 BMW R80 800cc
And the moderns in no particular order:-
Graeme Bartlett 2002 Kawasaki W650 650cc

Wayne Williams 2010 Kawasaki Versys 650cc

Bernie Burton 1995 Suzuki Bandit 600cc

Graham Riley 2016 Indian Scout 1200cc

Louis Peilschmidt 2000 Moto Guzzi California 1100cc

Tony Mitchell 2020 KTM ADV 390cc

Kym Miller 2013 Triumph T100 865cc

Garry Varney 2009 Kawasaki 900 Custom 900cc

Martin Blindell 2016 Royal Enfield 500cc

Trevor McDonald 2015 Yamaha MT09 850cc

Campbell Blaney 2001 Yamaha FZ 1000cc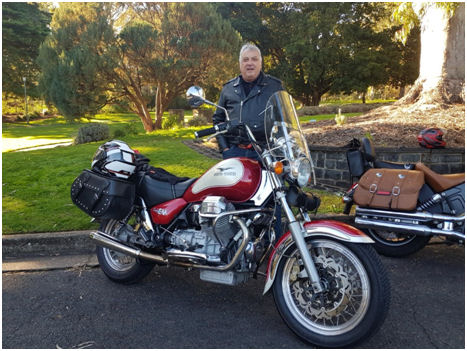 Louis and his Moto Guzzi Californian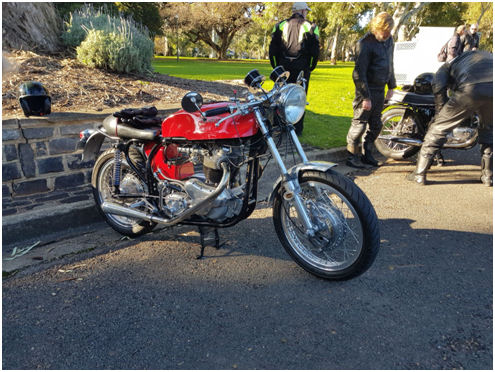 Phil Allen's Norton Commando
We set off on time for a very pleasant amble to Littlehampton via Summertown, Verdun and Hahndorf (where there was a cue at the bakery and an Ariel Square 4 parked in the Main Street)!
Coffee and cake in the sunshine at the Littlehampton Bakery and plenty of bike oriented conversation – what could be nicer? Here we were joined by Phillipe Reeves in what must be the flashest club run support vehicle that I am aware of – an Alpha Romeo. (2010 10 ALFA ROMEO 159 1.7L TBI TI 4d 200 BHP – unless I'm mistaken).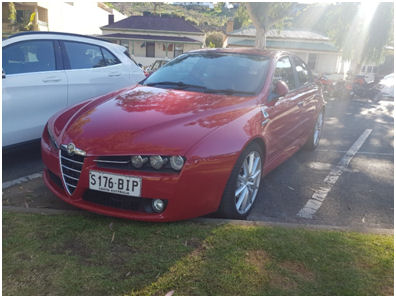 After a relaxed break it was off once again along the Old Princes Highway past Callington and a right turn just west of Murray Bridge along Old Swanport Road which bypasses the Bridge and leads on to the Jervois road and the Tailem Bend ferry.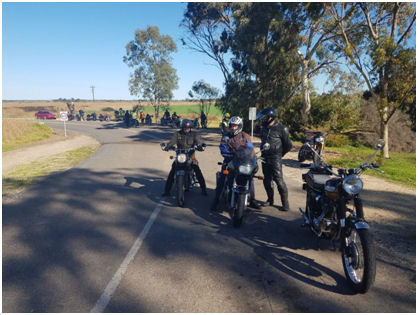 Waiting for the Jervois ferry
On the other side of the river we headed north through the Mallee country. Boy, this looks a picture now compared to when we last saw it. Green as far as the eye could see.
Turning left on Bowhill Road and then sharp right on to Burdett Road, we made our way to the ferry at Mannum only to find that the bakery in the main street is closed on Sundays. More the fool them as there were literally hundreds of people in town. We made do with fish and chips and enjoyed a pleasant repast in the park down by the river. Many of the world's problems were discussed but I'm pretty sure none were solved.
The homeward run degenerated as usual into an every man for himself affair but a slightly more dedicated group managed the wonderful ascent of Angus Valley road via Apamurra and Millendella to Mount Pleasant.
Many riders found their own way home from there with, in the end only two BMWs on the final few kilometres back to the city via Chain Of Ponds and North East Road. 245kms for me and one of the best days ever. Thanks to all those who made it such a successful and sociable outing.
Alan Kernich
Club Captain