17 Starters presented at Civic Park which can only be described as a carnival atmosphere. Yes, the Bay to Birdwood was in progress, it seemed that we would be a portion of the cavalcade for a brief period.
The participants were;
Ed Lowrey on his 1975 BMW 900
Tom Robson on a Kawasaki W650
Allan Vaisham on a 1970 Honda 450
Graham Riley on 2016 Indian Scout 1200
Burnie Burton on a 1995 Suzuki 600 Bandit
Wayne Williams on Yamaha 650 Cruiser
Wayne Lawson on a 2016 Triumph T120
Merilyn Braunsthal on her 2019 Kawasaki 650 Ninja
Bob Braunsthal on a Yamaha XS650
Campbell Blaney on a Triumph 750 T140E
Alan Kernich on a more reliable Triumph 750 T140V
Ray Hill on a 1974 BMW R90/6
Charles Oliver on a Triumph 675 Street Triple R
New member Peter Perry on a 2010 BMW R1200R
David Saint on a 1974 900 R90S
Neville Gray on a Bridgestone 350 GTO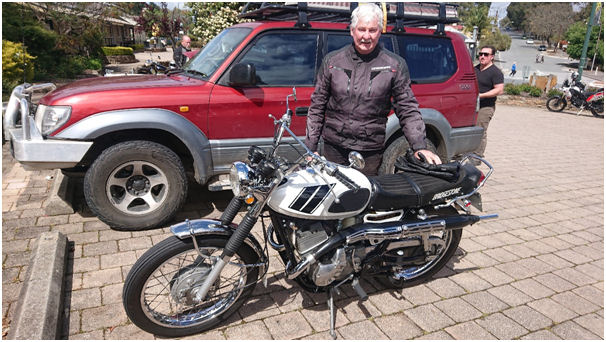 We set off about 10am, I was on my Tenere 700 we were part of the pageant for longer than I thought as Vintage tin moves very sluggishly up hills. I was in first gear searching for a lower gear! This enabled the trailing riders to make up ground prior to turning off from the procession. Our first break was to be in Williamstown travelling via Snake Gully and Humbug scrub. I slowed up on numerous occasions to help avoid people from drifting from the route, I saw numerous headlights grouping behind me in my mirrors. "Good job" I thought, as I pulled up in Williamstown with a steady stream of participants pulling up in the car park.
Then there was a pause of riders for several minutes. It became apparent as tail end Charlie approached from a different direction, there was a problem. He educated me that his bike wouldn't start due to operator's error and "cleverly" took a different route????? So the all the corner markers waited tolerantly until it was apparent something was wrong!
I was pleasantly surprised that so many riders are bringing along their own refreshments with so many Thermos'. This empowers us to stop anywhere and have munchies and drinks, as my second planned stop was Barossa Sculpture Park had no catering. Most were refreshed, the unprepared were restless. Only one lost rider here, found at Angaston.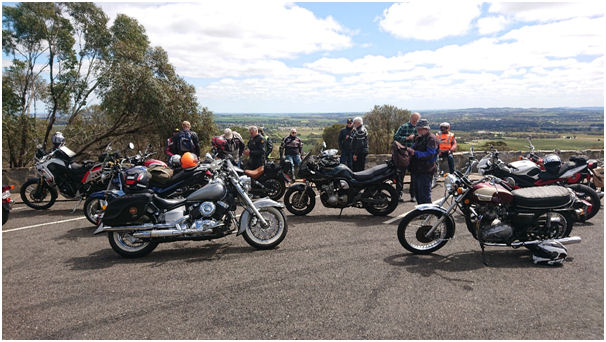 Scenic lookout at Barossa Valley Sculpture Park.
We ventured off towards Angaston were I thought it was a good idea to give everyone some U-turn practice. Over shooting one turn, and wrong turn at a T-junction, truth be known, I need a GPS. Finally in Angaston for lunch, the shaded park in the main street provided an agreeable location, close to cafes and toilets. After discussing the world's problems (me being one of them) we set off on the return leg. Some departed at the lunch stop their own way. Thanks to all participants, this was an entertaining and eventful day.
Next club monthly ride will be on November the 1st  to Waitpinga. We will meet at the Caltex servo at O'Halloran Hill for a 10.00am departure. Due to the Covid situation I have socially distanced myself from cafes and bakeries, I am not emotionally devoted to them. So I'm giving everyone advance notice, as there's only a toilet at this destination no catering present. Please bring your own refreshments and or lunch. Perhaps even consider bringing a chair as this is the type of "Point of Interest" destination lunch stop I've been enjoying during the peak of the pandemic, which I truly appreciate. Nevertheless I plan to do a café stop for Brunch.
This ride is going to be in excess of 200km, my notion is doing longer runs when less extreme weather conditions usually found in Spring and Autumn are expected. I'm also working on a pillion friendly civil ride, so older riders and smaller capacity bikes and the like are better accommodated, as some members find the moped runs TOO slow and monthly rides too perplexing for a variety of reason.
Hope to see a good turnout,
Louis Peilschmidt, Club Captain.