This was another Bob Finnie club tour similar to the outing we did to Old Tailem Town a couple of years back. This time a mini bus was hired and there were about a dozen bikes ready for a start at the club rooms in Woodville. Some members wheeled out their historic machines, others brought newer bike along :- Alan Kernich (BMW R80), Jenny Kernich (Honda 400-4), David Saint (Suzuki GT750), Roger O'Loughlin (Suzuki GN650), Kym Miller (Yamaha XT500) Lew & Rhonda Hylton (BMW R100 outfit), Ray Chappel (Kawasaki Zephyr), Charles Oliver (BSA A10), Ian Roddie (Yamaha FZ1) and Bob Finnie & Clayton Penley (Harley-Davidsons). I believe the bus was full – Alan Wallis and wife, Barry Young, Les Tapping, Charlie Brown and Franz Keunig were among the passengers.
Bob and Evangeline had done us all proud by providing morning tea, lunch and refreshments. A big thank you to Bob and especially Evangeline, who'd spent two days cooking biscuits and cakes and preparing cold rolls for lunch. Special thanks to Alan Brock who drove the bus just as he did to Peterborough in 2016.
For the trip up we decided to take the freeway, in order to get their in  time for morning tea. Near Monarto we pulled into the truck stop to find Wayne Williams and Graham Riley waiting on their cruisers. Shortly afterwards the bus pulled in and we arrived at Murray Bridge in one large group.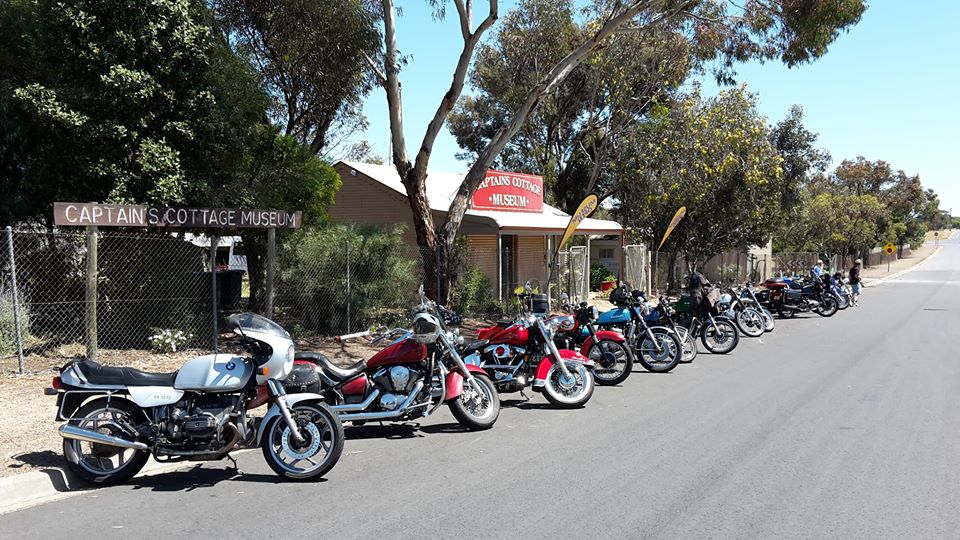 The museum had a lot of early farm machinery in one shed, several small engines & vehicles in another and some large kerosene engines which were used to pump water in/out of the River Murray. There was lots of other machinery including some early telephone exchange hardware and old kerosene fridges/meat safes etc and blacksmith equipment. Compared with Tailem this one probably had a lot less social history exhibits, but a lot more static engines, several of which seemed to be in working order.
As we sat down for lunch, David Byford and Mike Ryan turned up after visiting a disappointing swap meet in Strathalbyn. Disappointing from a motorcycle point of view, as most of it was geared towards cars.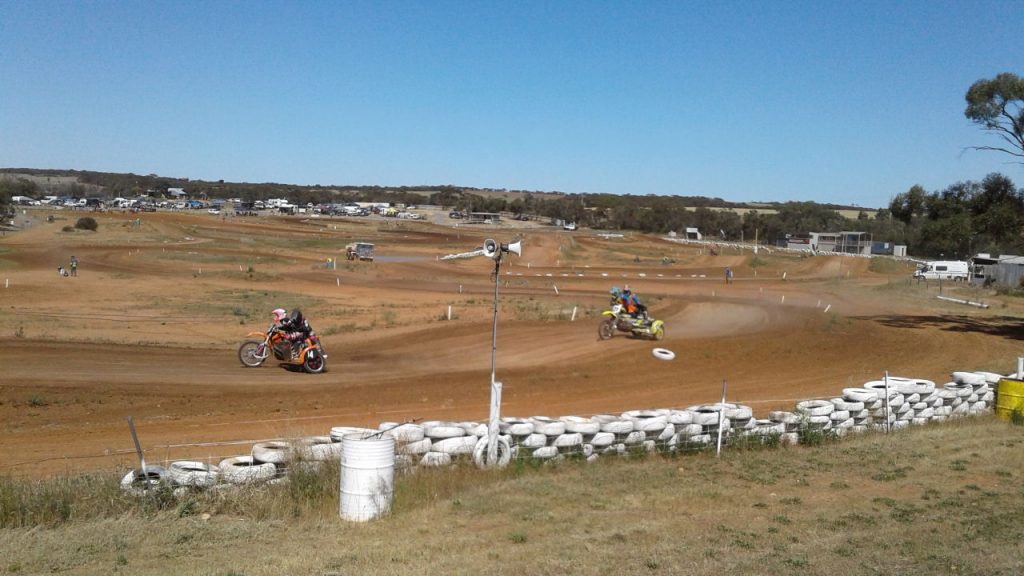 Bob Finnie had promised a trip to the new racetrack site being constructed near Tailem Bend after the museum visit, but most of the bikes were more intent on visiting the motocross track near Monarto to watch the Murray Williams Sidecar Cup meeting. We went our separate ways and enjoyed about 40 minutes of sidecar action before returning down the old highway to Littlehampton/Balhannah and down Greenhill Rd.
Thanks Bob.
Charles Oliver, Secretary.