Proposed learner restrictions will do nothing to reverse SA death toll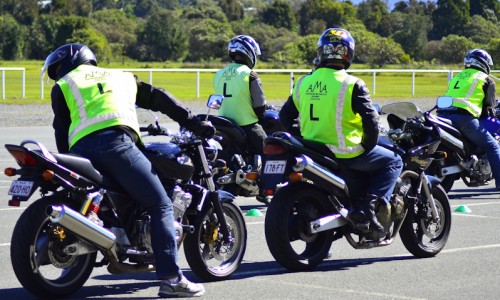 The proposed changes to motorcycling licences as put forward by Adelaide University's Centre for Automotive Safety Research for the Transport Department will do nothing to reverse the number of deaths on SA roads. The proposals include:-
raising the minimum riding age from 16 to 18 years.
forcing 50cc scooter/moped riders to hold a full R licence. Currently they require a car licence.
riders on L plates for at least 6 months and increasing R-date licences (equivalent of P plates) from 1 to 2 years.
imposing a curfew on learners from midnight to 5am and a total ban on drugs/alcohol.
enforcing the wearing of high visibility clothing.
introducing 'on road' licence testing and a new 'hazard perception' test.
Other changes such as not using phones, not being allowed to tow trailers and not being allowed a pillion passenger have also been put forward, but I would have thought that these are already prohibited for learners.
The 36-page review, entitled Recommendations for a graduated Licencing System for Motorcyclists in South Australia, rules out mandatory protective clothing, but it urges other measures such as improved infrastructure spending, better vehicle technology as well as training and police enforcement.  The report is on this website https://yoursay.sa.gov.au/decisions/mc-licensing/ where readers can complete a survey and make their own submissions. I urge all members too make their voice heard by contributing to the discussion and completing the survey.
Overall these recommendations will lead to punitive measures which delay any young rider who wishes to get a motorcycle licence. One positive is the scooter/moped riders who will no longer be able to ride their machines with just a car licence, although I have reservations regarding the automatic licence detail. Currently in SA car drivers can pass a test in an automatic and then drive a manual car. The proposal is that passing your bike test on an automatic bike means you can only ride an automatic bike. Cars and motorbikes should be treated the same, so surely car drivers who pass a test in an auto should only drive autos!
In my opinion, the recommendations do nothing to address the original problem ie. the high 2017 death rate amongst motorcyclists. What proportion of deaths can be attributed to young learner riders? According to the figures, from 2013 out of 62 deaths on SA roads only 2 were under 18. Good, cheap and available training would be the way to go. There is no advanced training available in Adelaide. I know there is a returned riders refresher course, but I'm unsure of the quality and I'm not able to comment on learner facilities in this state. I do agree that on-road testing is essential and that 'hazard protection' should be part of basic training.
HiViz clothing – this is the thin end of the wedge, as far as I'm concerned and will give motorists further reason to claim a SMIDSY, if other riders aren't wearing fluoro. My argument is, modern bikes already have lights 'always on' (my own bike has 2 close together) if you can't see bikes, you shouldn't be on the road. This is the government's excuse to bring this in for ALL eventually – that's my fear. If you've ever seen that YouTube clip when a police motorcyclist, dressed head to toe in yellow fluoro, sirens wailing, lights flashing tries to stop the traffic on a motorway and gets run over by a car, you will realise that is doesn't matter what we wear, they STILL won't see us! I note that motorcyclists however are able to notice other motorcycles easily.
Meanwhile, riders could do themselves a favour by wearing suitable protective clothing. There are far to many 'squids' riding around Adelaide dressed in shorts and  t-shirts, some even have open footwear and no gloves. Don't those Mick Doohan ads mean anything?
---
Latest tactics ensuring your safety in the Adelaide Hills
---
All Roads lead to Lobethal, Saturday 11th November
If you frequent Facebook, you'd have been well ahead of the pack regarding this event. As a fund raiser for Beyond Blue, Jo and her staff at the Amberlight invited bikes along on Saturday afternoon for a show & shine event in the main street in Lobethal. There were more bikes than I'd seen before in Lobethal. Many more modern bikes and not so many older bikes, but there was no denying the overall quality on display.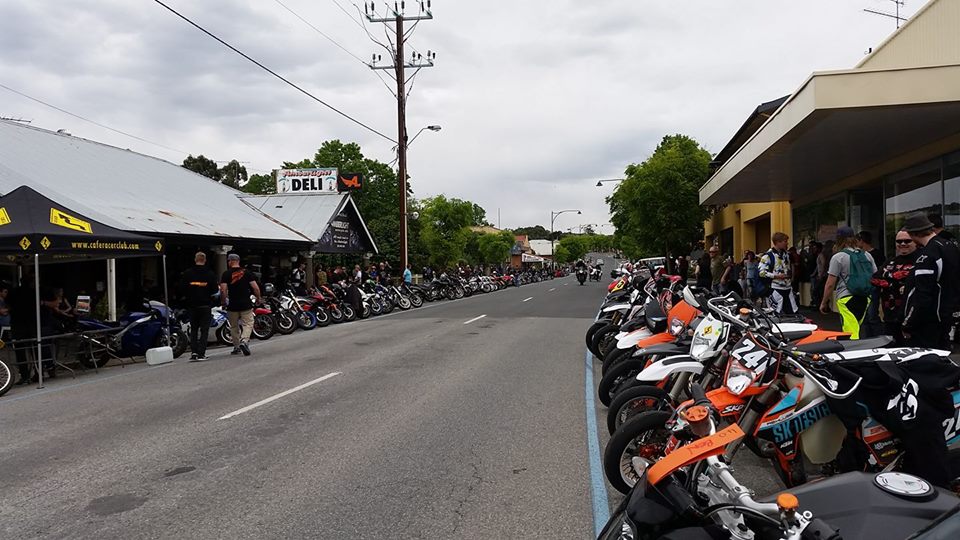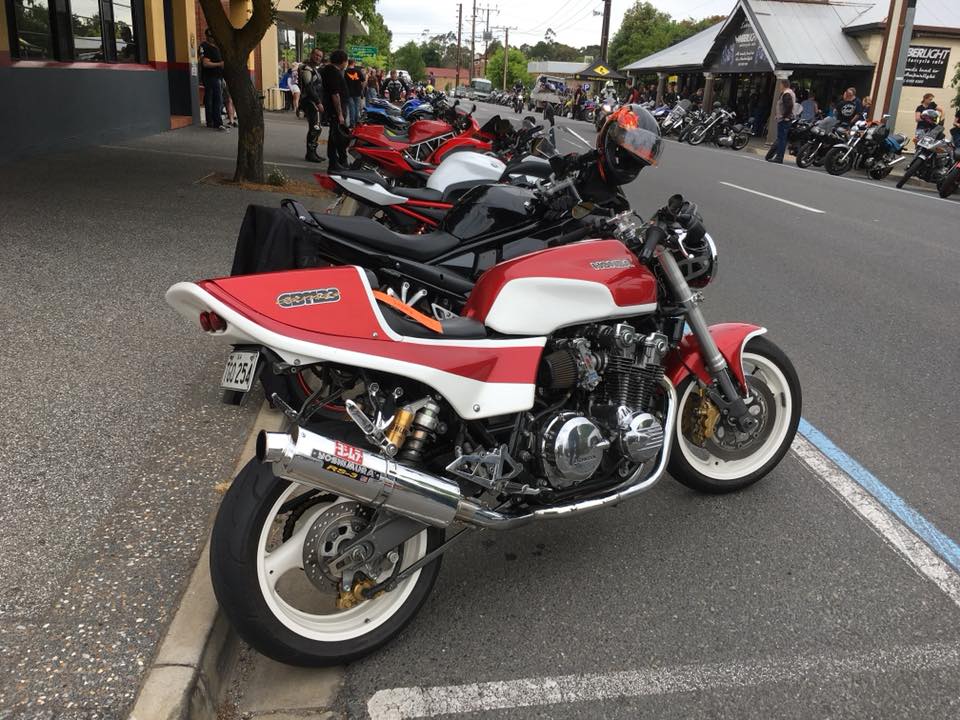 The Amberlight hosted a BBQ, one of the neighbours over the road had a gazebo with resident DJ on the front lawn and tables advertising the Cafe Racer club and the upcoming Poker Run were also on display. Bikers of all ages and descriptions were in attendance ensuring an excellent cross section across the motorcycling community.
A pastor from the Longriders club gave a blessing for the bikes & riders as well as calling for a a minutes silence in remembrance of those who passed away on local roads in the past. Trophies were presented for a number of categories. Noted trophy winners included :- Lorenz Klass winner of Best LAMS bike for his Honda Sky Ace which was on the Yankalilla run last month, as well as yours truly, winner of the Best Euro bike for my BSA A10SR. The only BSA as well as the oldest bike present.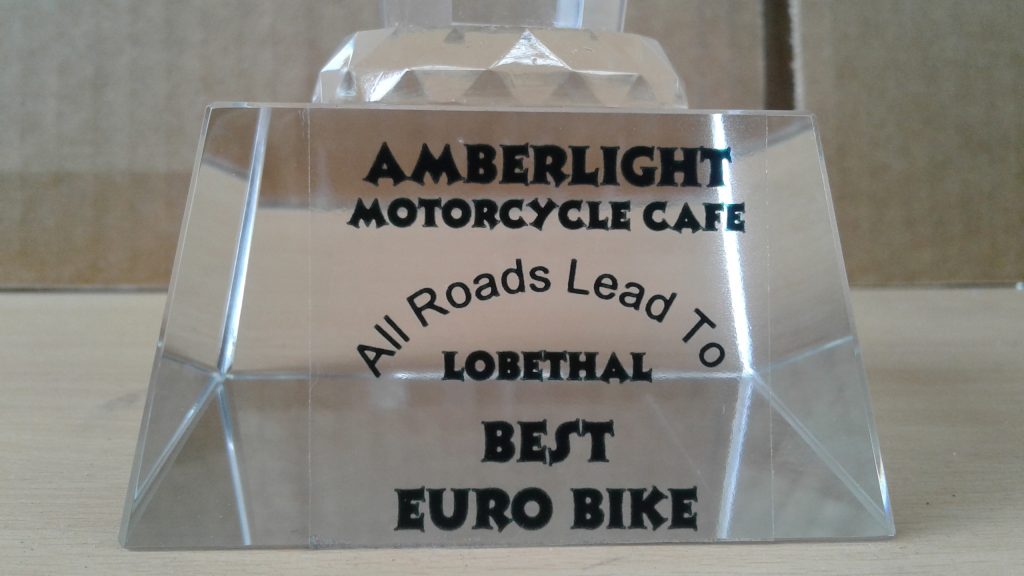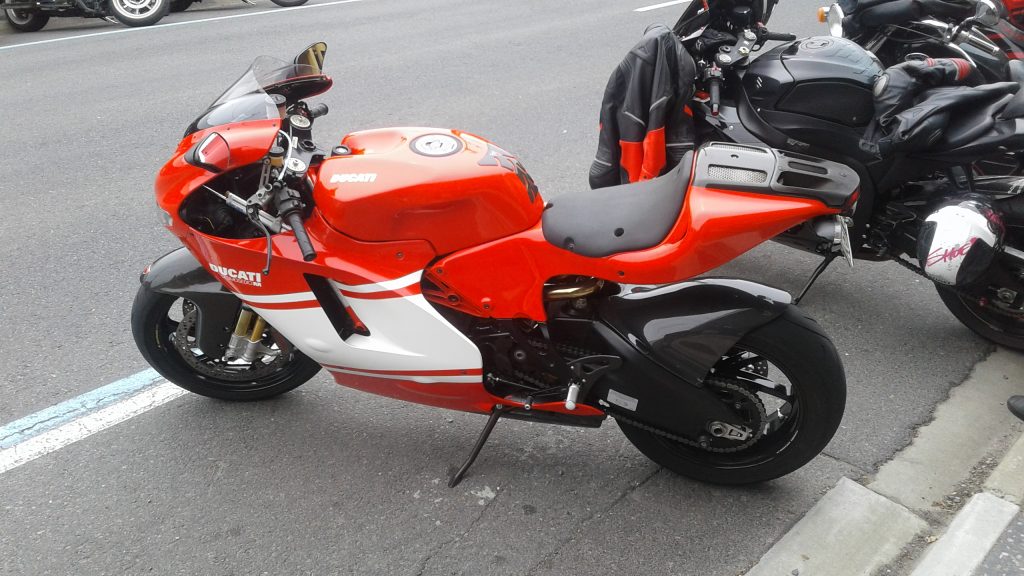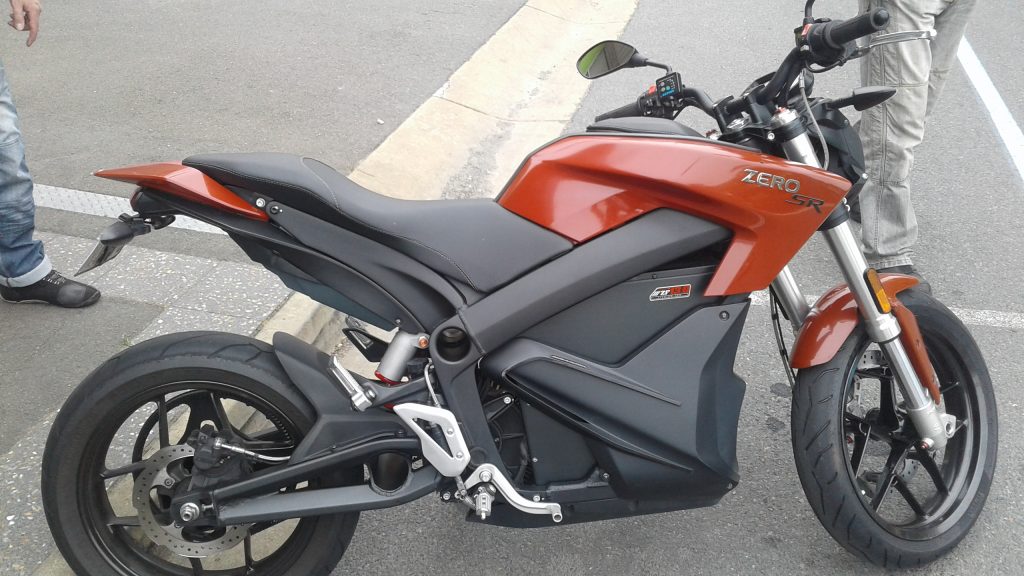 Well done to Jo and the Amberlight staff for putting on the show and to all the riders for turning up. Keep your eye on the Ride to Review facebook public group for future events.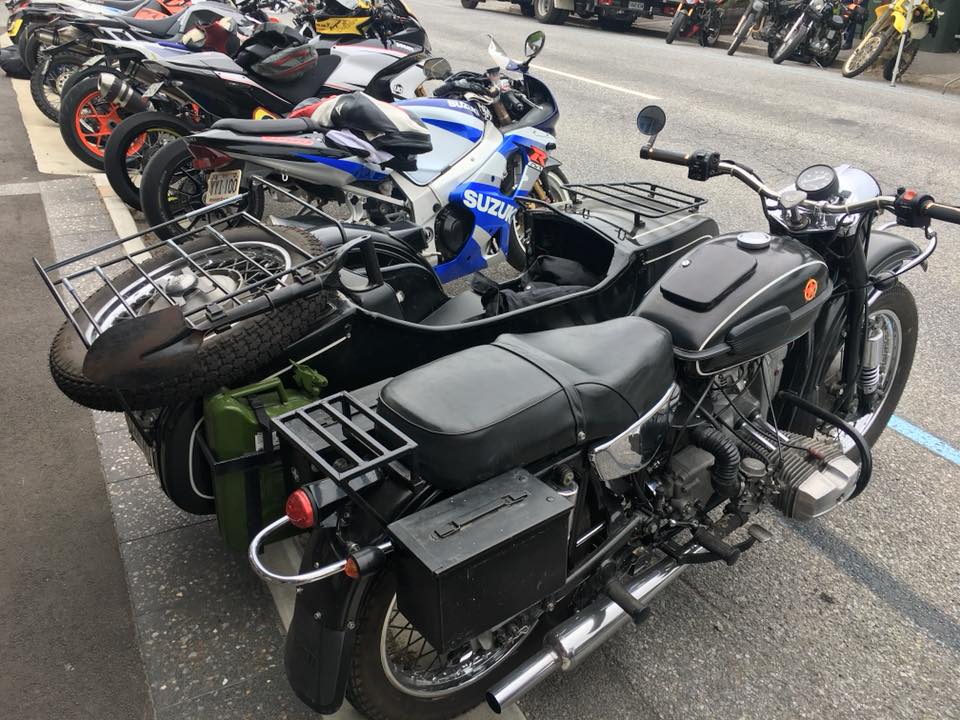 ---
Lions Classic Bike Show, Macclesfield, Sunday 5th November
Half a dozen riders met at Hazelwood Park for the ride to Macclesfield in support for the inaugural Lions Classic Bike Show. Just up the track before Summertown, we had lost two of them. The remaining four bikes (a BSA, a Triumph and two Nortons) continued through Sterling, Mylor, Echunga and through to the Macclesfield Sports Ground. Warren Duncan and other members of the Honda division were already ensconced on the opposite side of the oval. So, we crossed over to the other side and raised our Classics at Hart flags at either end of the row of bikes to mark our presence. Our two lost riders eventually joined us bolstering our numbers to a dozen or more.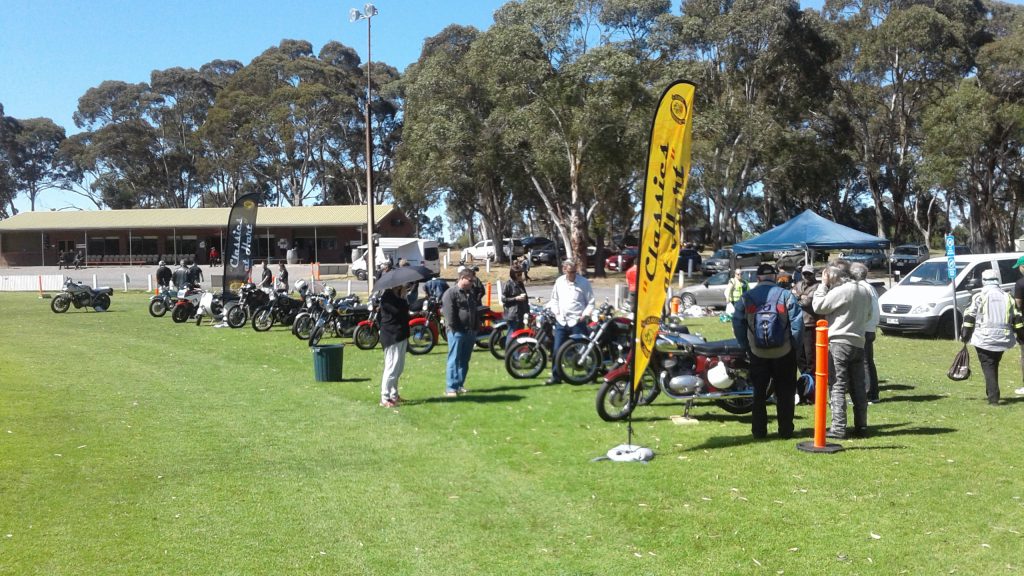 Well done to all COMCC members for making the effort, these included Rob Smyth (Triumph Tiger 100), Alan Wallis(Norton Dominator), Richard Knott (Jawa 250), Phil Allen(Norton 750), Mike Ryan(Honda 450), Rene Meeuwissen(Honda CB77) , Graham Riley(Vespa), Tony Mitchell(Honda XBR500), Trevor Jones (Matchless  G80S), Warren Duncan(Honda CB400) , Charles Oliver(BSA A10SR) and Wayne Williams who transported the club flags to and fro by car. Another COMCC member Andrew McDonald (Harley U Model) was also exhibiting elsewhere in the oval. There were several other members who showed up for a shorter stay at the event and others whose names escape me, but they showed a 750 Bonneville, a Triumph T100, a CX650, a Yamaha and a Kawasaki. Someone even parked a very interesting 500cc Moto-Guzzi among our bikes.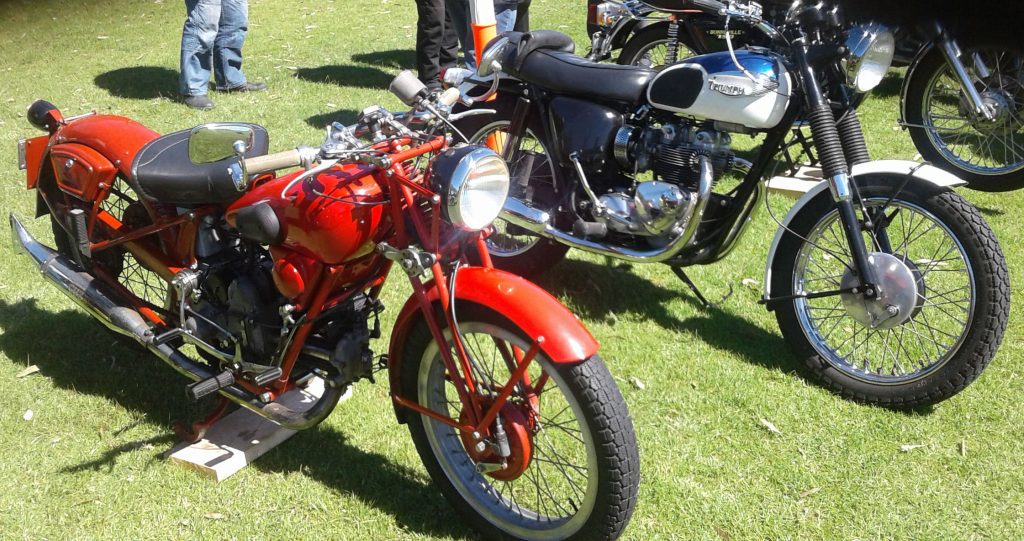 Many other clubs attended, the Vintage Japanese MC probably had the most, the BMW owners also had a good showing, as well as our own club. The bikes parked in the car park were probably just as interesting and, in retrospect probably should have joined all the older bikes on the oval.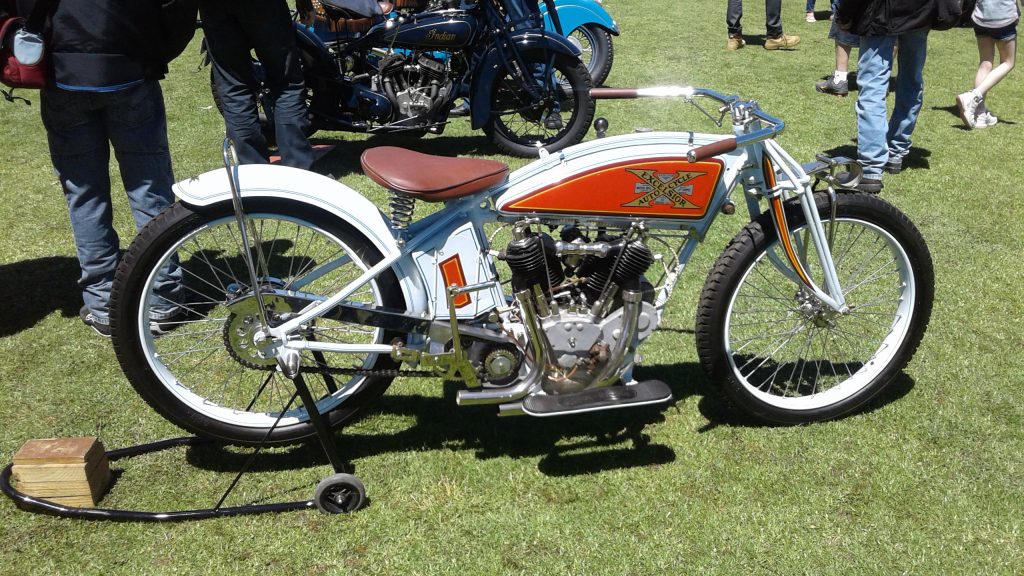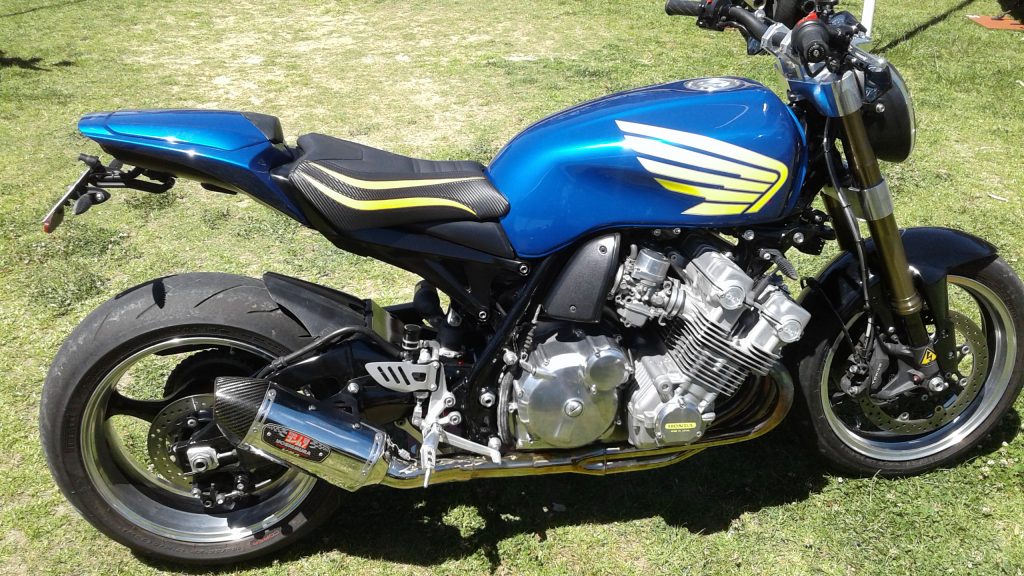 I introduced myself to Fred Keal, the event organiser, who was very happy with the turnout and was already thinking of next year's event. Several traders were present running swap meet type stalls, local traders were invited to provide the catering and the weather was sunny all day. Exhibitors were given a token for a free sausage sandwich at the BBQ as well as other goodies in their showbags.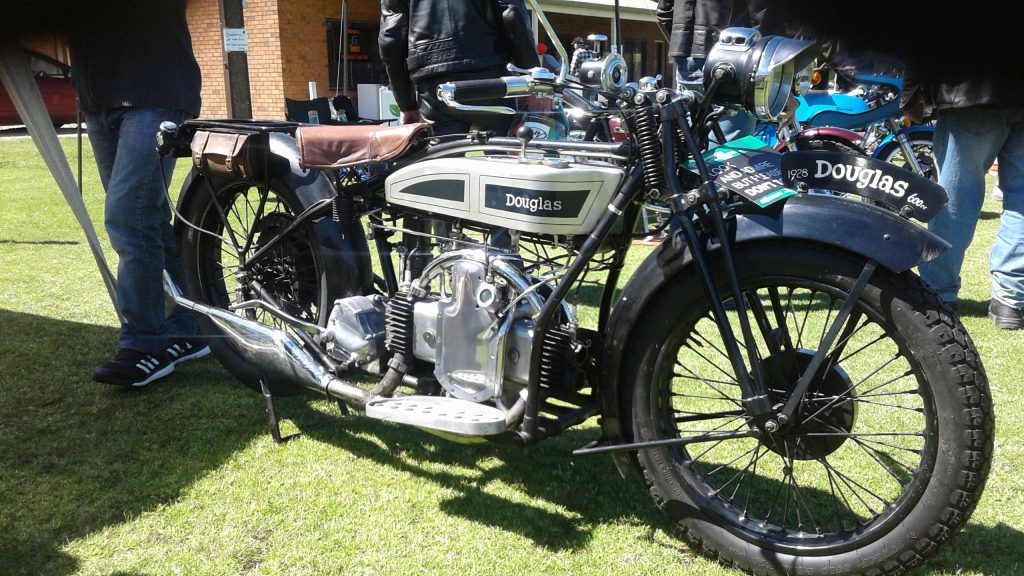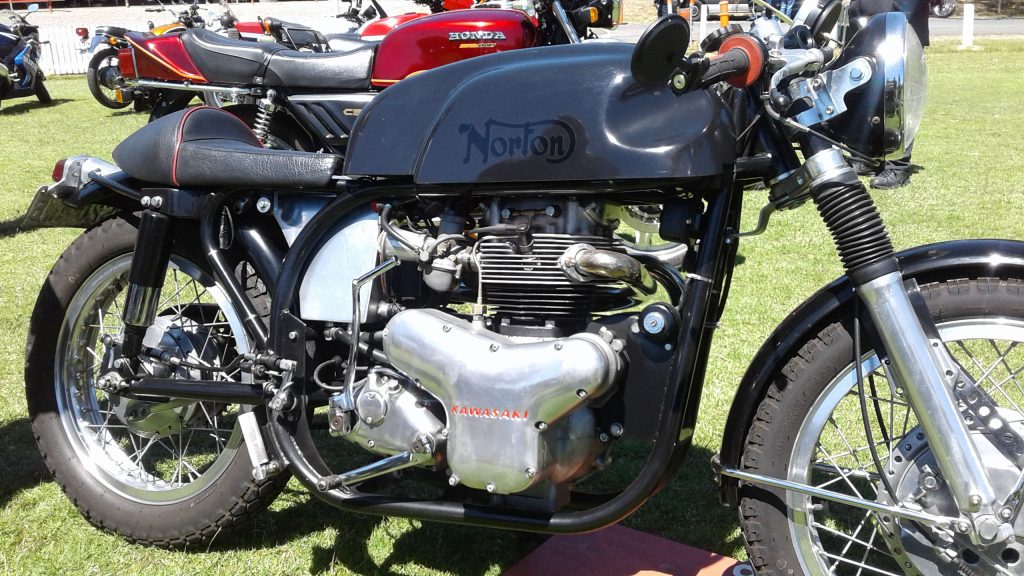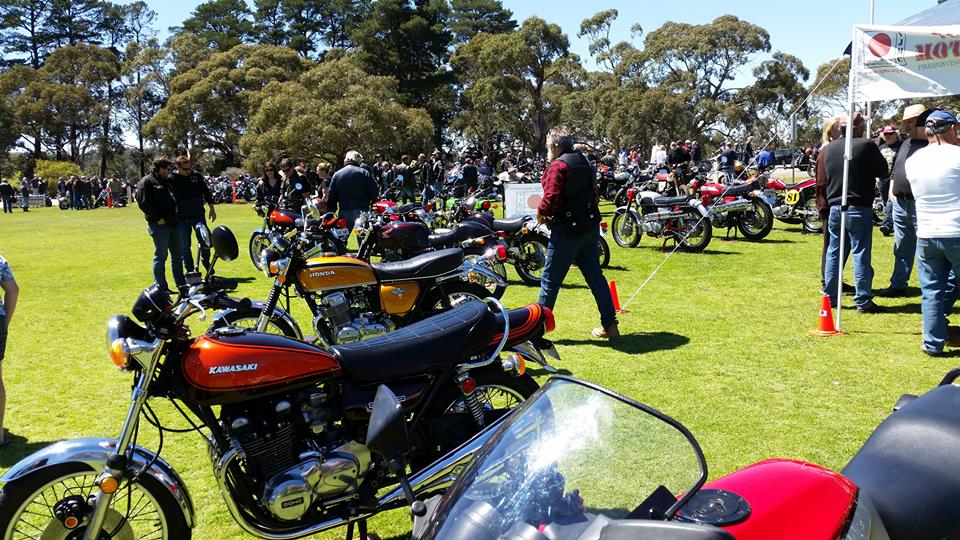 After a lap or two and a look round, the Honda dream team had disappeared from our own display leaving a bit of a gap in the ranks. David Saint helped fill the void with his 1957 BMW 250.
There were many interesting bikes on display, as the show continued into the afternoon until about 3 o'clock, when many patrons started taking their bikes home. Well done to the Lions for putting on a fine show, I look forward to next year's event.
More photos here https://classicowners.org/lions-classic-bike-show/#lg=1&slide=0
---
Lane Filtering
Several people have been asking about lane filtering on South Australia roads. What is lane filtering? Are motorcyclists allowed to lane filter? When is it safe to do so? Here is a video which appears on the DPTI South Australia website. This is the official DPTI version, so it may be treated as gospel.
---
Classics at Hart : Mill to Mill, Saturday 7th October 2017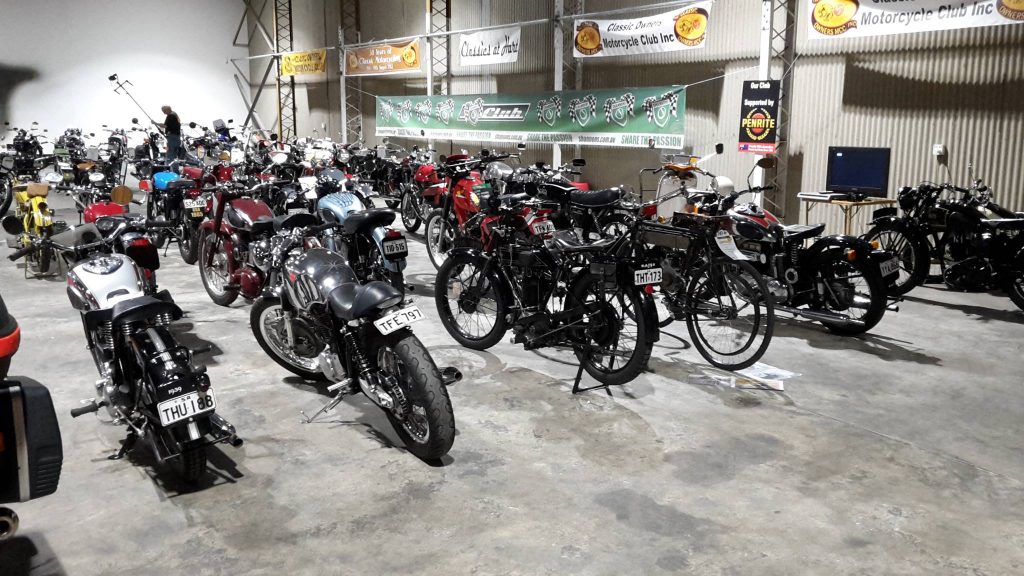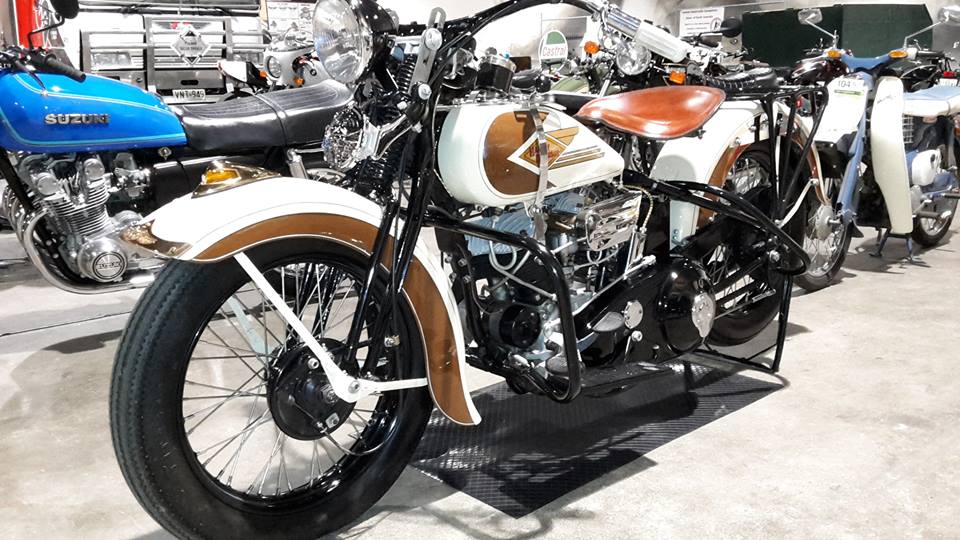 Early morning showers and a large oil deposit at the entrance to Mundy St, courtesy of the pizza truck, didn't deter entrants and spectators from attending the latest Classics at Hart event in Port Adelaide. There was a good selection of veteran & vintage bikes in the static display in the flour shed and outside at the end of Mundy St by the wharf, as well as a swelling number of starters for the ride to Birdwood Mill. Food vendors were set up outside and as well as sponsors Hancock & Just and Shannons. Two representatives from our beneficiary SAHMRI attended along with our very own Professor David Saint who was on hand providing information for interested patrons.
Apart from Brough, Scott, Panther and Ural we had most of the other manufacturers covered. There were more BSAs than Triumphs, several early Harleys and Indians and an array of racing and competition bikes including a wall of death Tilbrook. There were scooters, autocycles and even a Swiss made three wheeler circa 1910. Many walk-ups on the day contributed to the increased ride numbers and led to an impressive variety of machines on the day.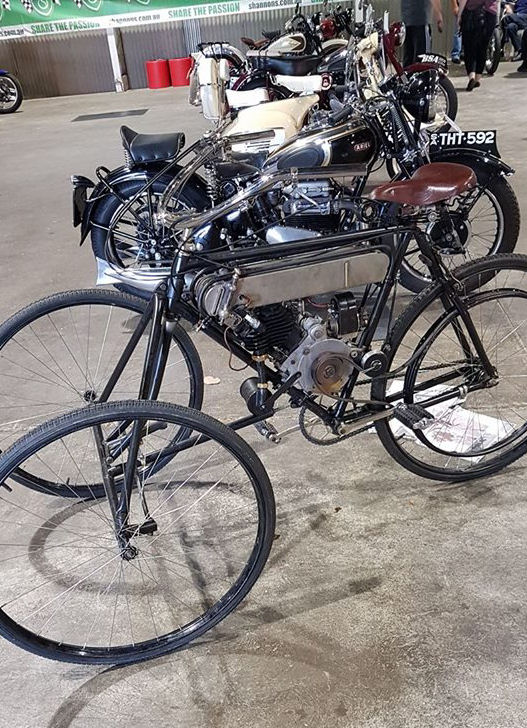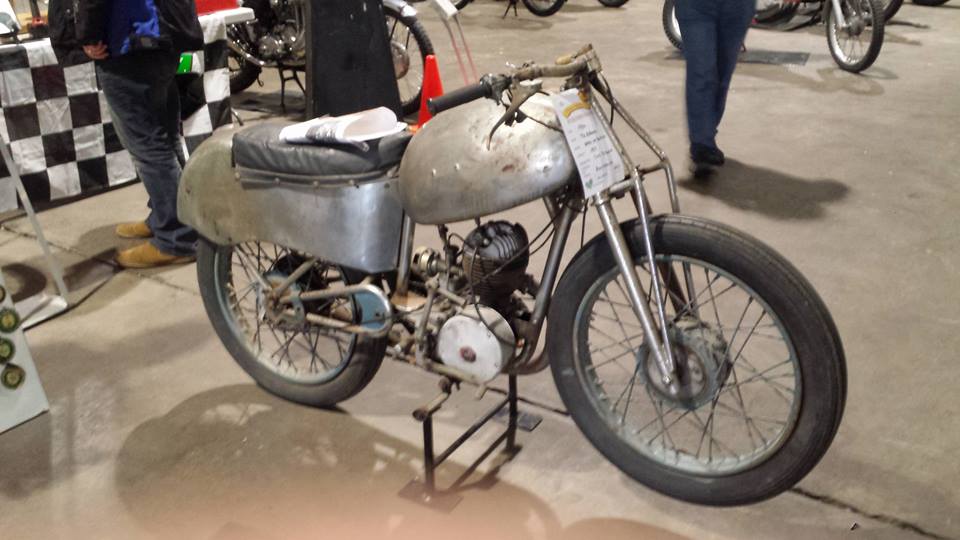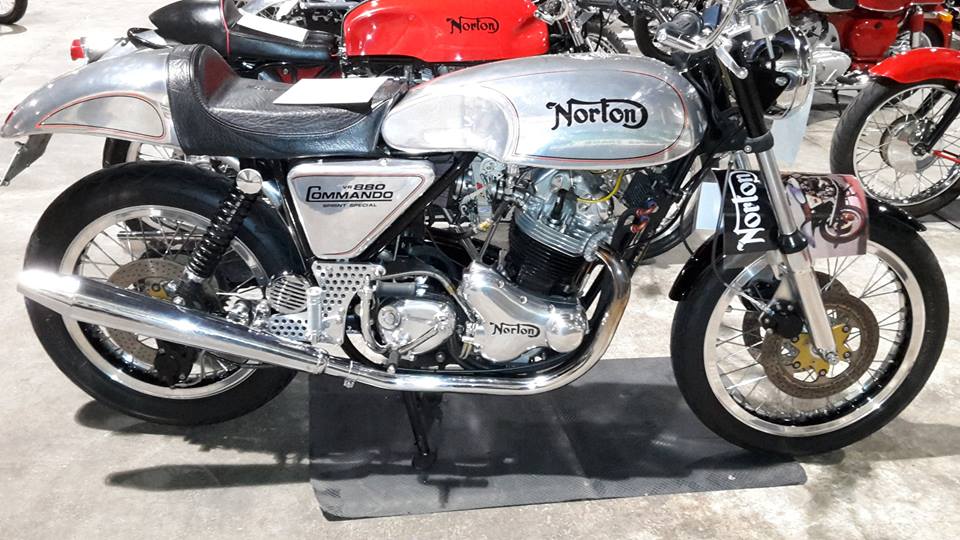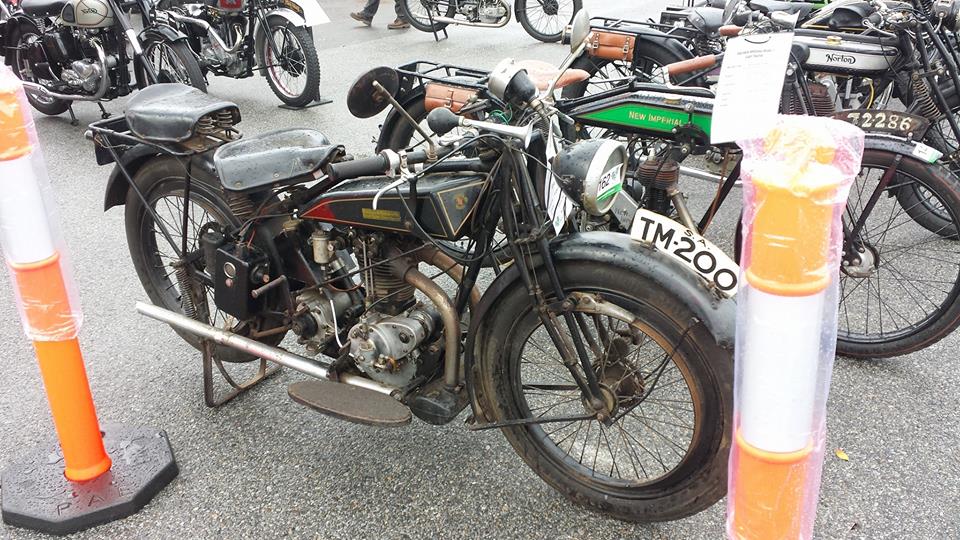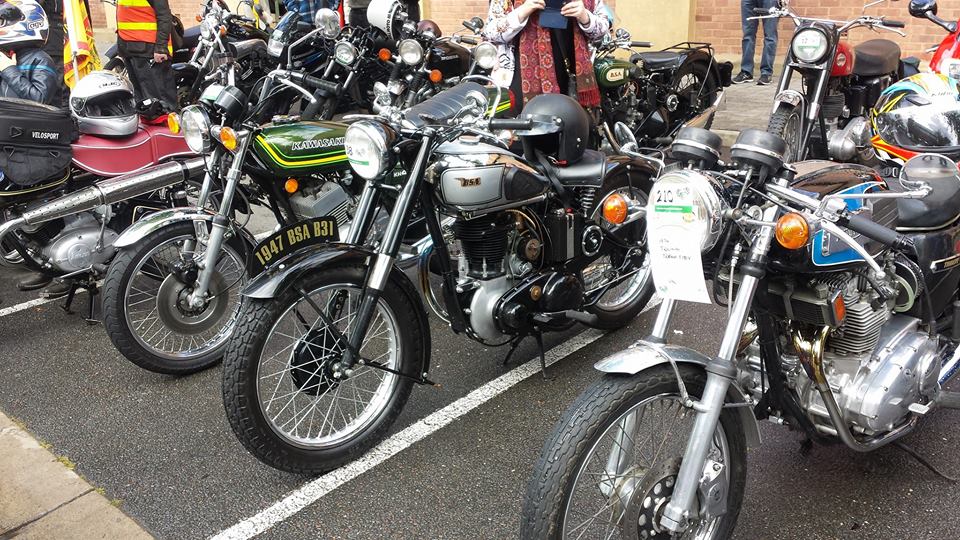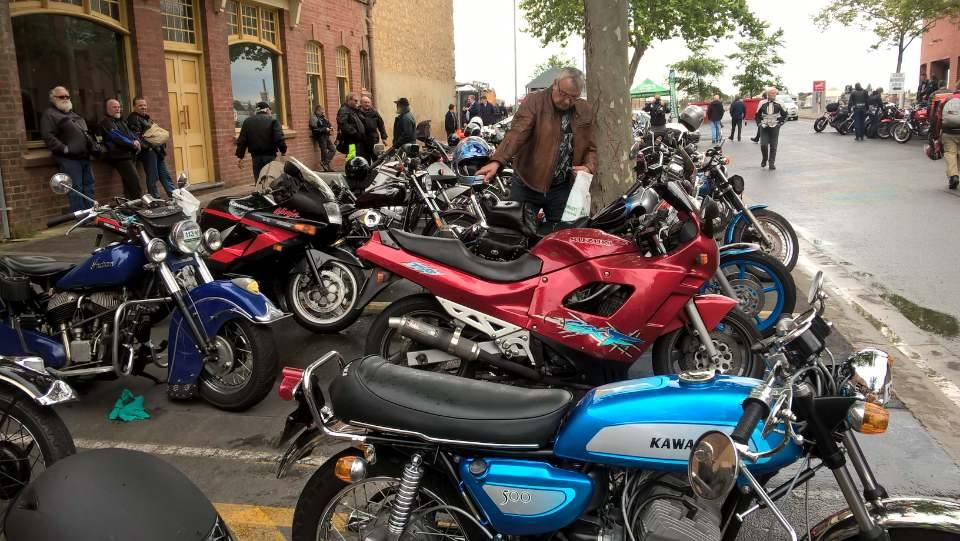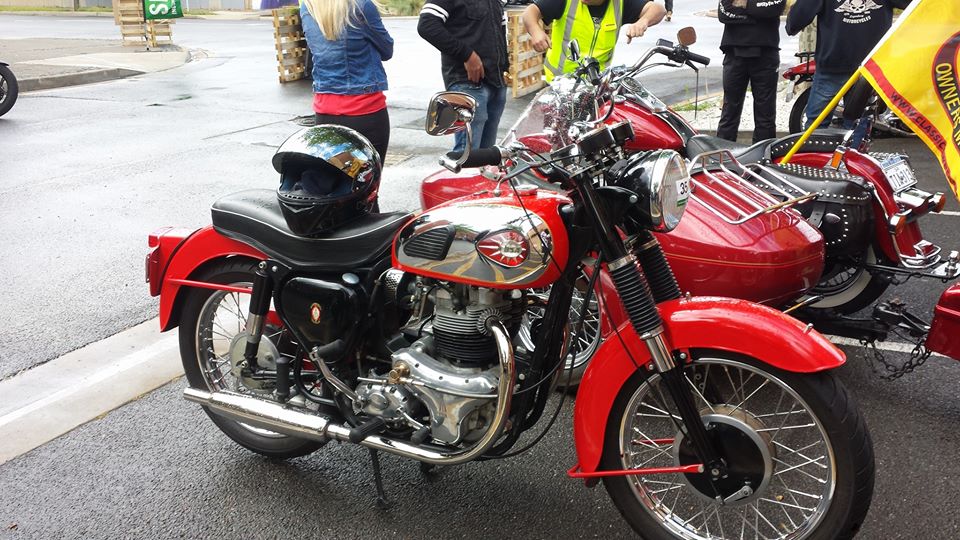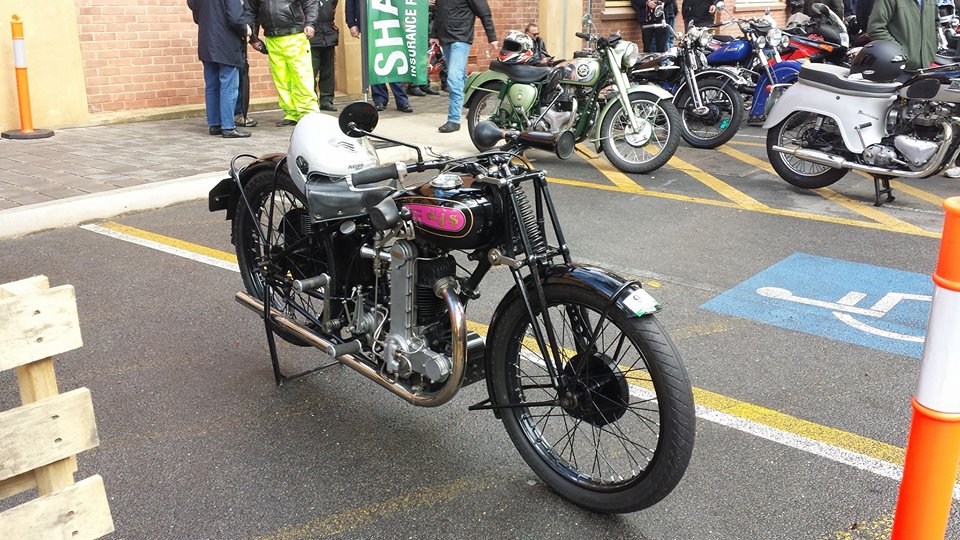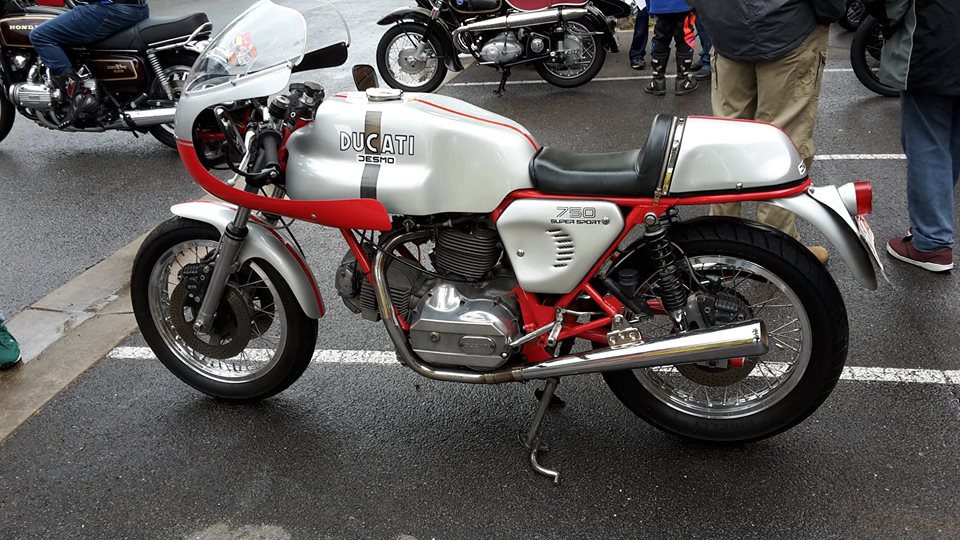 MC Bob Freeman started proceedings introducing Pt Adelaide mayor and COMCC patron Gary Johanson with state MP for Port Adelaide Susan Close, who were delighted to see such a healthy crowd gathered for the event and Gary in turn presented the event organiser Lew Hylton. We were to be led to Birdwood by the SA Police's historic cars division and the order was given to 'start your engines'. The sound bouncing off the Flour Shed and the TAFE building opposite was deafening to the point that it was difficult to hear your own bike running.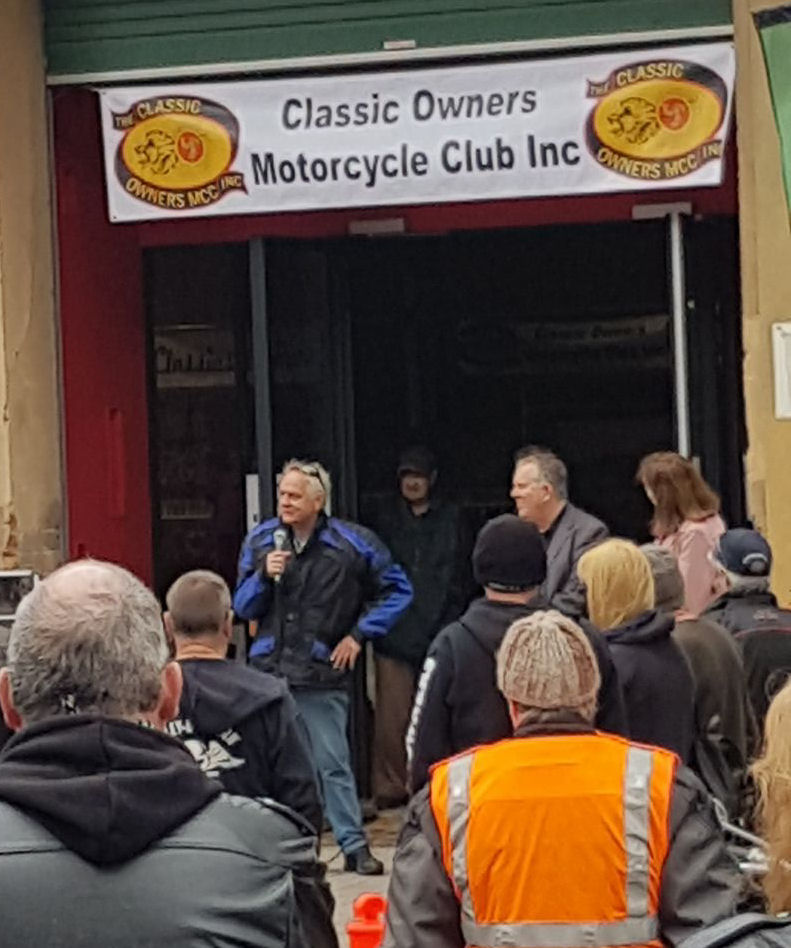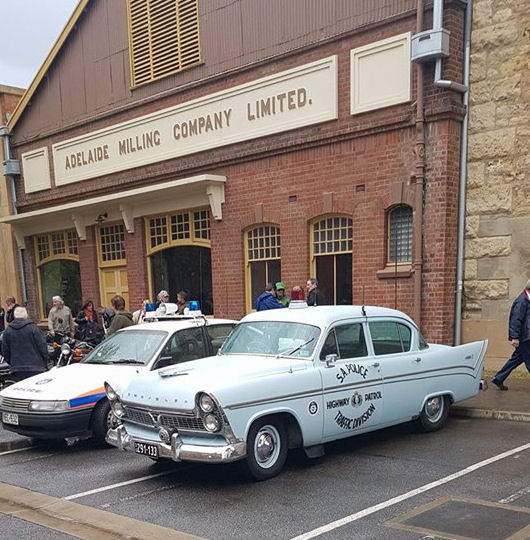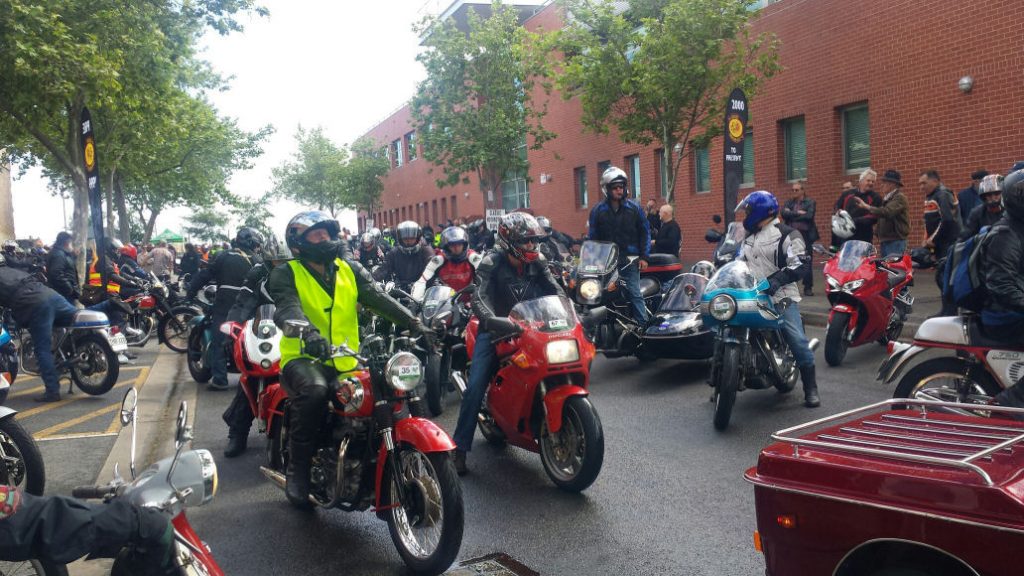 Riders funneled out of Mundy St and turned onto St Vincent St heading off along Grand Junction Rd, North East Rd and through Chain of Ponds. I found myself surrounded by 70s & 80s Ducatis for most of the way, then the Police escort pulled over in Gumeracha, which allowed myself and two other marshals to zoom ahead to Birdwood to position ourselves so that no one got lost. Everyone behaved themselves and we all arrived without incident at the back of the Birdwood Motor Museum and parked on the grass. The CFS did a  fantastic job providing burgers, sausages and bottled water for all the riders and we should all also be thankful to Bob Chantrell and his crew for marshalling at Birdwood, as well as Wayne Williams who was following with a car and trailer should anyone have needed to be rescued.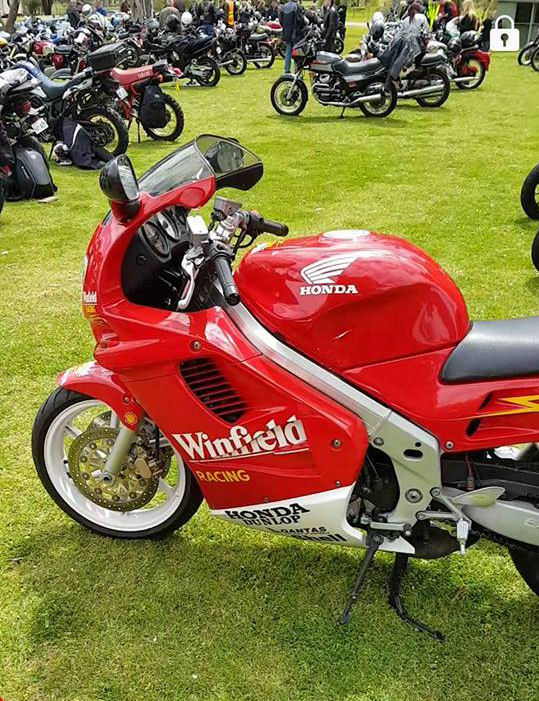 Our two judges Malcolm Hermann from the CFS and Deb from the Museum circulated among the bikes and eventually made their decision :- A 1929 BSA sloper outfit, a 1954 Vincent Black Shadow, and for the moderns a Honda CB1000RR in Repsol trim and Clayton Penley's Harley/sidecar/trailer combination won the best bike trophies. An excellent choice by the judges who were quite overwhelmed with the huge variety and quality of bikes present.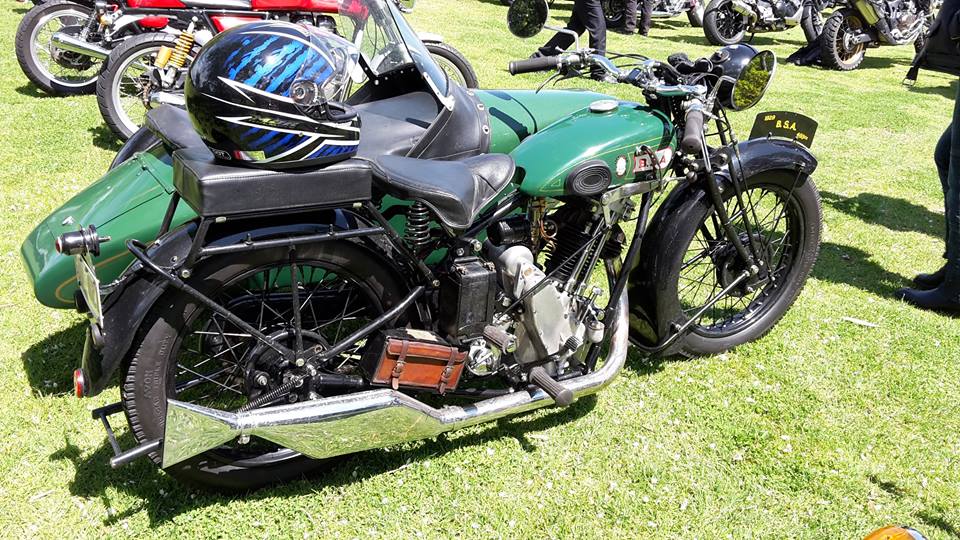 The return journey was a bit more of a spirited affair as we deviated towards Kersbrook and One Tree Hill and along the Salisbury Freeway back to Port Adelaide. On our return the band were performing on the flat bed truck and most of the bikes were on display by the wharf in the sunshine.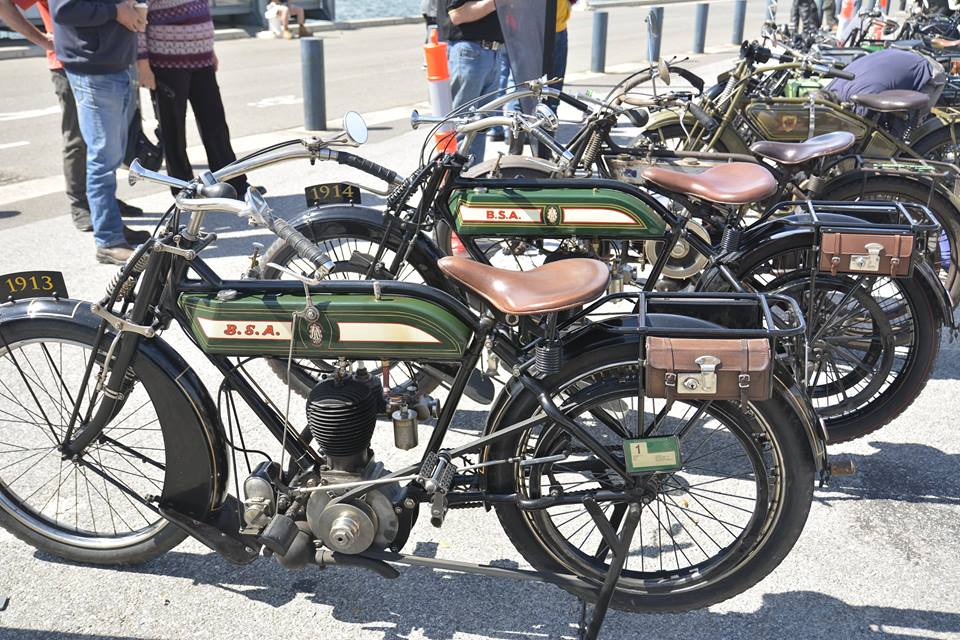 I think the ride component of the event went really well with no incidents of note. I'm not sure how they fared at the Port while the ride was on, but when we arrived back later in the afternoon it was quite hot for some of the volunteers looking after the bikes.  Proceedings gradually wound down late in the afternoon. The good weather, great motorbikes and the many walk up starters helped make the event a success. Proceeds from the afternoon will be donated to SAHMRI, helping to keep South Australia at the forefront of medical research. Thanks to all the entrants/exhibitors for providing their machines, to Lew Hylton, Clayton Penley and all the volunteers who assisted to ensure that everything ran smoothly on the day. Also, a big thank you to our sponsors Hancock & Just, Adelaide Brighton Cement, Shannons and the Port Adelaide Council to name a few, which allowed us to put on the show.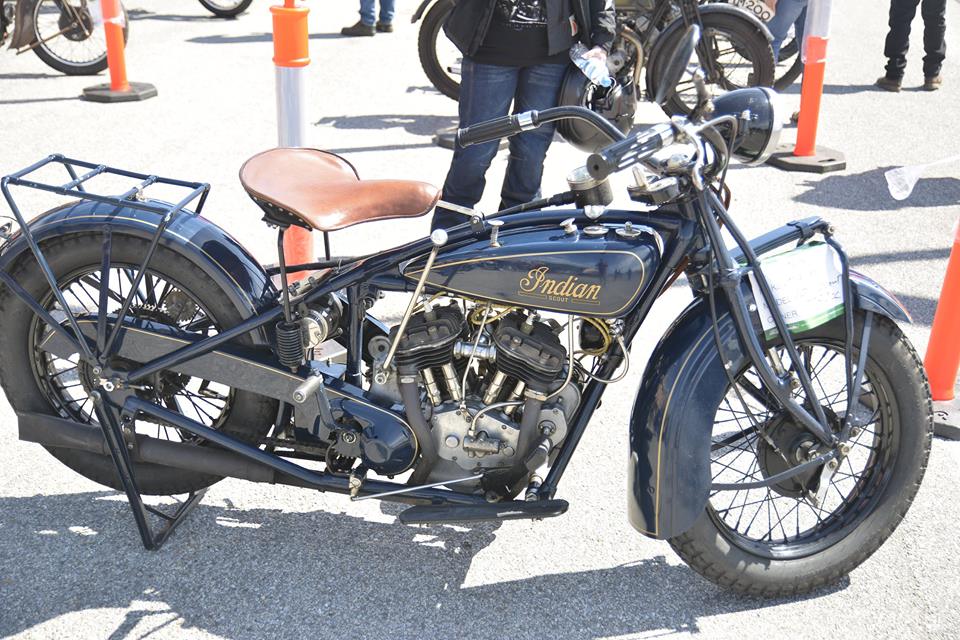 *** The photos shown here only tell half of the story. For a real representation of the many different bikes on display and on the ride, click the Mill to Mill static display or Mill to Mill Ride to Birdwood .
---
Asbestos regulations hit bike imports
Those intending to import classic bikes (or cars) from overseas will now be subjected to increased scrutiny by the Australian Border Force. Would be importers now face further restrictions and will need to sign a declaration that the vehicle is asbestos-free. Under the changes, importers can be fined thousands of dollars if a motorcycle is spot-checked and found to contain asbestos.
Individuals face fines up to $180,000 or three times the value of the bike (whichever is greater) and companies up to $900,000 if asbestos is found to be present. Recent motorcycle imports including Honda, Kawasaki, Yamaha etc. have tested positive to these tests.
People importing the vehicle must show proof that the bike doesn't contain any asbestos. If proof cannot be shown, the bike will be held at the port until testing is finalised.
Representatives from Antique Motorcycles and Classic Style say, so far, they have had no issues, but it's a different story with some classic car importers who have ceased shipping until there's some certainty surrounding the issue with one importer paying $14,000 to get a couple of Ford Mustangs checked out. Brakes and clutches are obvious targets, but checks have been extended to engine seals, head gaskets and exhausts.
Think again if you believe all brake shoes are asbestos free, not long ago I purchased a set of EMGO front brake shoes only to find that they contain asbestos. You have been warned.
---
Thanks to the Morris Car Club Bulletin magazine for the above article.
---
Changes to Historic Registration
If you haven't already heard, there have been welcome changes to regulations regarding Historic Registration. As from 1st July 2017, owners of historically registered bikes will no longer have to submit annual Statutory Declarations to the Registrar for their machines and there will now be a rolling 30 year rule for eligibility to the scheme. Take a look under Membership – Historic Registration menu on this site for full details. I look forward to seeing more 80s bikes on our roads.
This log book day, members will no longer have to provide a JP signed Statutory Declaration. Great news for our machine registrars, log book day administrators and our members! For more information contact Bob Finnie 0411 687 666 or at the next club meeting.
This announcement along with the recently adopted rules allowing lane splitting in stationary and slow moving traffic have given motorcyclists in SA a reason to celebrate. Well, that is with the exception of the ever decreasing speed limits and continued covert camera scrutiny in the Adelaide Hills, but that's another story.
---
Sellicks Beach Historic Motorcycle Races
Wintery weather greeted competitors and spectators on the weekend of 18 and 19 February 2017 at Sellicks Beach, south of Adelaide. Thousands of spectators lined the barricade set up between the high tide mark and the fenced conservation dune area just inland. A cool and blustery southerly wind was holding up a higher than normal tide and the start of racing was delayed for about one and a half hours until there was enough useable beach.
After a flypast of vintage biplanes and a grand parade of the 100 odd solo and eight sidecar outfits which ranged in dates from 1924 to 1962, the racing began at about 11am. There were different fields for capacity and age groups and each entrant had 2 scratch rounds and a handicap event on each of the 2 days; 50 events in all. These were run over 3 laps for the smaller machines and 4 laps for the larger capacity bikes. The course was run clockwise up and down the beach between two oil drums placed 1/2 mile apart (approx 800m). An astounding variety of manufacturers  were represented, including  Norton, BSA, Triumph, Velocette, Harley Davidson, Levis, OEC, Matchless, Ariel, Zundapp, Indian, Honda, Royal Enfield, James, DKW, Adler, ESO, Douglas, Villiers, Bultaco, AJS, Jap and  Jawa – a real feast of historic bikes.
Most races were hotly contested although there were a few disappointing moments with breakdowns. The most embarrassing  was when a bike completely lost its rear wheel and there was nowhere to hide! The period 2 (1920 – 1942) unlimited class was perhaps the most spectacular with hand gear changes and the booming noise of the big side valve Harleys providing plenty of entertainment.
Standout performers included Wayne Wallis (Honda 125) and Trevor Henderson (Bultaco 125) in the tiddlers class. Jarrad Smiley got his Rickman ESO 500 going really well late on the  Sunday and was much faster than the others in the Period 3 350-500cc final scratch race, winning by 20 seconds. Kym Davey (250 Honda) was far too strong in the Period 3 125-250cc class, easily winning all his scratch races. The honours were shared in the hotly contested Period 3 250-350cc class with Lloyd Davis (350 Manx Norton) and Terry Hutchinson (350 BSA) each winning 2 of the 4 scratch races. Dan Gleeson (600 Norton) and Joe Ahearn (750 Triumph) had close battles over both days in the Period 3 (1946 – 1962) unlimited class and although both suffered some reliability problems, the spoils were shared. In the sidecars, Mark and Kelly Schuppan on their 650 ESO had a very successful weekend, winning all 4 of their scratch races and one of their 2 handicap events.
50 races in all over 2 days – what a weekend!
By Alan Kernich.
All race results are available at https://speedhive.mylaps.com/Events/1361987
See photos & videos of the event here
---
All British Day @ Echunga Recreation Ground, Sunday 12th Feb 2017
It was a relief that the summer heatwave had finally dissipated and the day started out overcast and cool, so entering into the spirit of things, I rode the BSA A10 to the event.
There was a vast array of bikes in the tennis court which acted as the visitors motorcycle park and it took a while before I made my way through the entrance into the show proper. I paid my $8 entrance fee mentally noting that the cost was both realistic and something of a bargain in this day and age of escalating costs.
The main focus of the show were cars which far outnumbered the bikes. However, I was keen to look at the bikes initially. I made my way into the centre of the oval where Britain's finest beckoned. The Triumph display was first which was put on by the Triumph Riders Club. A Rocket 3 owner was only too pleased to chat with me about the finer points of his monster 2.3 litre machine. I spotted a couple of pre-unit Thunderbirds and a 750cc Bonneville Royal Wedding. Sadly, no 650 Bonnies were on display.
Moving on to the Nortons (courtesy of the Norton Motorcycle Club SA) I ran into a fellow COMCC member Phil Allen who showed his 66 Special. 750/850 Commandos were the mainstay of their display.
There were plenty of BSAs on display by the BSA Owners Club including several A65 Lightnings, a DB32 Goldie and a very shiny Super Rocket. I also noted many machines which had earlier been in our own Classics at Hart display last October. Club Photographer, David Byford and wife Helen were there gathering footage for his next film.
The Vintage and Veteran club were also in attendance with some really nice looking machines. A Scott Squirrel, a BSA Gold Flash and a beautiful Triumph X75 Hurricane caught my eye.
The last batch of bikes were from the AJS/Matchless Owners Club. Close by were a brace of AJS cars from the 30s including a wonderful example displayed by our own Rob Smyth. Unfortunately, I couldn't get to have a word with Rob as he was in big demand from various punters.
As the sun emerged from the cloud cover, I took a look at the cars. Manufacturers included Morris, Jaguar, Lotus, Rolls Royce, Bentley, Hillman, Bristol, Land Rover, Jensen – you name it, it was there. I ran into Pud Freeman and Alan Martin, who were on Morris Owners Club duty and had a good chin wag with those gentlemen too.
The event was quite large, as the oval next door was also being utilised. There was a display of stationary engines chugging away on the outer region of the main oval, antique tractors and some vendors selling various bits and bobs for classic British cars. There was even a flyover by a couple of old aeroplanes. In finest British tradition a troupe of morris dancers entertained the crowd, but unlike in the UK, they were NOT fuelled by copious amounts of alcohol. Take it from me, the alcohol helps loosen ones limbs!
So, an excellent mornings entertainment at a very reasonable cost, many COMCC members were in attendance and plenty of food and drinks were on hand. The organisers and exhibitors for this event are to be congratulated for a very successful show. Don't miss the next one in 2018!